Gentle Somatic Yoga: Awaken the Possible
with James Knight, E-RYT 200, CHSE
September 13 - 15, 2019
Join James Knight, a pioneer in the field of Yoga and Somatics, for a weekend of complete restoration. Discover for yourself why Gentle Somatic Yoga is globally recognized for offering immediate and lasting relief from chronic pain, stiffness, and other tension-based patterns.
As the practice of Yoga continues to become mainstream, people are searching for kinder, gentler, and more nourishing ways to move. In this program, you will be invited to explore innovative techniques that combine Hatha Yoga, Hanna Somatic Education, Core Energetics, pranayama (breathing exercises), and healing visualizations.
See video for more information about Gentle Somatic Yoga Deep Dive weekend Retreat at Yogaville
Our emphasis will not be on stretching muscles, but reprogramming them. We will study the root cause of all muscular pain and reeducate the brain-to-muscle connection through exercises called Somatic Movement Flows. The results return us back to our natural state, which is peace and well-being.
This introductory course is suitable for Yoga teachers, bodyworkers, active seniors, and beginning Yoga students. Regardless of age or ability, you will learn practical and effective skills which you can immediately incorporate into your classes and/or home practice.
Continuing Education (CE) Opportunities
James is also offering his GSY Practitioner–Level 2 Certification at Yogaville, September 7–13.
Register for the certification course at GentleSomaticYoga.com.
Testimonials
Learning about Gentle Somatic Yoga was so refreshing and opened a new world of opportunities. — Past Participant

I really enjoyed this course. Learned a lot and feel much freer in my body already. I am a Yoga teacher and Yoga therapist and have already started to use little snippets in my classes with great response. This work is amazing! — Jasmine M.

Presenter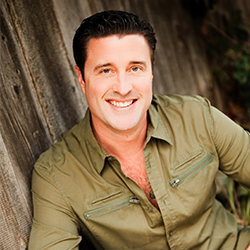 James Knight, E-RYT 200, CHSE
James has been an Integrative Therapist for over 25 years. He is a Yoga teacher (E-RYT 200) and Certified Hanna Somatic Educator (CHSE). From his combined experience as a lifelong yogi, intuitive bodyworker, psychotherapist, and movement educator, James created a method of Yoga that integrates what he discovered to be the most progressive, life-enhancing techniques into an embodied movement practice. Gentle Somatic Yoga was born out of years of exploring means of connecting and integrating the deeper aspects of the whole Self (Soma). James' passion is to awaken the possible for people living with challenges related to physical limitations. He…
Learn more about James Knight, E-RYT 200, CHSE