New Year's Silent Retreat: Seek the Light Within
with Swami Gurucharanananda "Mataji" and Senior Staff
December 27, 2019 - January 1, 2020
"You are not given the light by anyone—not even by a spiritual teacher. You are that light." — Swami Satchidananda
In a world of many distractions and difficulties, where do you look for guidance? Look within yourself. The serenity of silence and the practices of Integral Yoga, including pranayama (yogic breathing), meditation, Hatha Yoga, and talks on yogic philosophy, will help you to realize the guiding light already within you.
Join us for the New Year's Silent Retreat to gather the spiritual wisdom and strength needed to face day-to-day surprises with the guidance of your own inner light. This retreat offers support to handle all of life's challenges.
Silence to experience inner and outer peace and tranquility
Instruction in pranayama (yogic breathing techniques), meditation, and Hatha Yoga for focus and rejuvenation
Delicious, vegetarian meals for health and well-being
Opportunities to absorb the teachings through talks given by Integral Yoga senior practitioners, ministers, and swamis (monastics)
Remember, this time away from the demands of daily life is intended to invite deep reflection and help you to make inspiring goals for 2020!
What to Expect
Since 1970, Integral Yoga Silent Retreats have provided the sanctuary and solace everyone needs from time to time. Surrounded by a serene woodland landscape, you will immerse yourself in silence while teachers offer experiential classes in Yoga philosophy, meditation, breathing techniques, Yoga postures, and deep relaxation.
Support
During the retreat, you will have the opportunity to seek support and clarification by asking questions in written form.
Private mentoring is also available.
All Are Welcome
These retreats are open to everyone, from beginners to advanced Yoga retreatants. Those who are new to meditation or Yoga practices will receive full instruction, while those with experience will have the opportunity to deepen their practice.
Testimonials
Mataji – I don't even know how to express what she inspires in me. The light shining out of her is blinding. When she looked at me I could feel her love. — Amy V.

The speakers were so enlightening. Morning meditation with Mataji was a sacred and magical gift I will cherish. — Kathryn Biegman

I'm so impressed by the warmth, love, commitment to detail, and making everything as perfect as possible. You have high standards for yourselves and your program, but you are so flexible and loving at the same time. — Kathryn Biegman
Presenters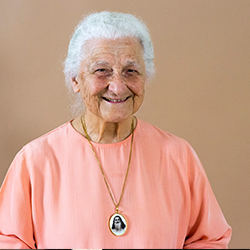 Swami Gurucharanananda "Mataji"
Swami Gurucharanananda, lovingly called Mataji, is a senior sannyasi (monk) and disciple of Gurudev, Sri Swami Satchidanandaji Maharaj. She lives at Yogaville and serves on the Sannyas Board. Mataji is a guided meditation leader and Hatha Yoga teacher, an inspiring speaker, Integral Yoga® mentor, and private retreat guide. She loves to offer pujas (worship service), read Sri Gurudev's teachings at lunch, and play the violin as a wake-up call in the dorms! In 2014 she was awarded the Swami Satchidananda Lifetime Service Award. Mataji always has a loving, joy-filled smile ready for you!
Learn more about Swami Gurucharanananda "Mataji"