This Journey Called Meditation
with Swami Gurucharanananda "Mataji"
August 30 - September 2, 2019
Join Yogaville's senior sannyasi (monk) and beloved teacher, Mataji, for a basic meditation workshop to establish and develop your practice.
A calm and focused mind can achieve anything. The beautiful science of concentration provides perfect tools to reach that profound state of being, beyond the normal awareness, called meditation. With sincere and regular practice, it can be experienced.
Meditation soothes the mind, reduces stress, and brings you in touch with the peace within. It provides documented emotional and physiological benefits which enable you to become the master of your own mind.
Experience the benefits of meditation as you learn:
Daily life as a preparation for meditation
Ways to develop a 'be here now' consciousness
Joy in learning and transforming oneself
A variety of approaches as you begin a meditation practice
Regardless of your previous experience, you will go home with knowledge and inspiration to develop mental clarity, calmness, and concentration that can lead to success in all areas of life.
Testimonials
Everything was wonderful. Mataji is a great yogi master. She teaches extremely well and it is a joy to be in her presence. — Past Participant

The meditation program—excellent. Swami Mataji—most interesting and an excellent speaker. Thank you, thank you. — Rebecca Kinkead
Presenter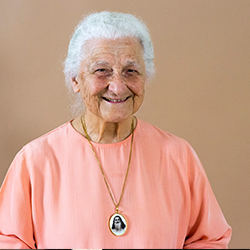 Swami Gurucharanananda "Mataji"
Swami Gurucharanananda, lovingly called Mataji, is a senior sannyasi (monk) and disciple of Gurudev, Sri Swami Satchidanandaji Maharaj. She lives at Yogaville and serves on the Sannyas Board. Mataji is a guided meditation leader and Hatha Yoga teacher, an inspiring speaker, Integral Yoga® mentor, and private retreat guide. She loves to offer pujas (worship service), read Sri Gurudev's teachings at lunch, and play the violin as a wake-up call in the dorms! In 2014 she was awarded the Swami Satchidananda Lifetime Service Award. Mataji always has a loving, joy-filled smile ready for you!
Learn more about Swami Gurucharanananda "Mataji"