Dissolving Your Barriers to Joyful Living
with Sampada Desai, M.A., LPC, E-RYT 500, CLYL, CLYT
November 1 - 3, 2019
Has the stress of daily living begun to keep you from living a joyful life? This experiential workshop provides a safe, nurturing, and playful environment in which you will learn and practice life-affirming ways to honor and celebrate your life.
Interweaving her skills as a psychotherapist, Yoga teacher, and laughter leader, Sam will help you rediscover your radiant, joyful heart. Practice ways to overcome discontent or anxiety that may have reduced your happiness, no matter their origin.
Like a wise, compassionate friend, she will teach several highly effective practices that promote joy, personal empowerment, and the ability to laugh, sing, and dance with the flow of life.
Testimonials
Sam's classes are filled with wisdom, compassion, humor, and connectedness! She is knowledgeable and experienced. — Joann Whiteley

Great Program. Open, honest, authentic presenter and an incredible format. Amazing in-person training. — Ritu Patel

[This was] absolutely one of the best programs and teachers I've ever enjoyed at Yogaville. [The program] truly helped me resolve some life issues and had me laughing and dancing—both rare in my life. Sampada is wonderful!!! — John Ward Jr.

Sam Desai is an awesome teacher—compassionate, wise, and very, very fun! I've taken many self-growth classes and have taught my own (as a health and life coach and psychotherapist) and I can honestly say that Sam's class is one of my favorite experiences! — Karen Schachter
Presenter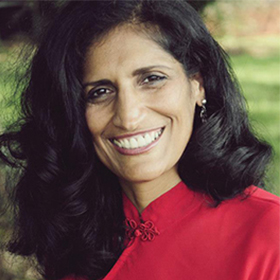 Sampada Desai, M.A., LPC, E-RYT 500, CLYL, CLYT
Sam is a licensed professional counselor with training in clinical psychology and 30 years of psychotherapeutic experience. Additionally, she is trained as a certified laughter leader and teacher trainer. She currently works as a psychotherapist at Centra Health in Lynchburg, Virginia, and maintains a private practice at her agency, Desai Counseling and Yoga. An experienced and compassionate Yoga teacher, she routinely teaches Yoga at her studio, local colleges, and other community organizations. A gifted and engaging speaker, Sam brings to her workshops a unique blend of Western psychology and Eastern mindfulness practices including Yoga, meditation, deep relaxation, healing imagery, conscious breathing,…
Learn more about Sampada Desai, M.A., LPC, E-RYT 500, CLYL, CLYT