Yoga and Writing: Peace on the Mat and the Page
with Lisa Jakub
September 20 - 22, 2019
Explore the deep connections between writing and Yoga in this experiential workshop designed to help put you in touch with your innate creativity.
Join author and Yoga teacher Lisa Jakub to work with writing prompts, practice Yoga asana (postures), and engage in discussions on how to use your creativity to find more peace and purpose in everyday life.
In this workshop, you will:
Discuss ways to move deeper into your writing
Access your authentic voice on the page and deal with writer's block
Learn how a Yoga practice can help access an inner stillness that supports any creative project
Use breathing exercises and other mindful activities to increase the mind-body connection
Participants will return home with a better understanding of their inner critic and gain tools to help manage stress and increase joy. No experience with Yoga or writing is required.
Testimonials
Lisa Jakub is a refreshing warm soul that will feel like a warm hug as she teaches you acceptance of your weird crazy self and provides tools to take home. — Stacy Boggess

She's articulate, she's smart, she's funny, and she's genuine, warm and friendly. But most of all, she has a story to tell. — Donna Talarico, Founder and Publisher, Hippocampus Magazine

Lisa is so easily understood and approachable. I came with an open mind and was led to where I needed to be. — Denise Nathe
Presenter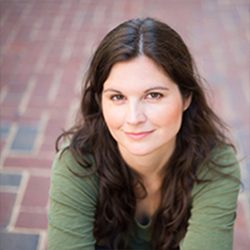 Lisa Jakub
Lisa is an author, Kripalu Yoga teacher, and retired actor who has more than forty film and television credits to her name, including Mrs. Doubtfire and Independence Day. At the age of twenty-two, Lisa retired from her eighteen-year acting career in search of a life that felt more authentic to her. She has found a happier, more purposeful life in Virginia as a writer, teacher, and an advocate for mental health awareness. Her latest book is Not Just Me: Anxiety, Depression, and Learning to Embrace Your Weird.
Learn more about Lisa Jakub