Navigate the Holiday Season with Yoga and Ayurveda
with Letícia Padmasri, M.A., E-RYT 500, C-IAYT
December 6 - 8, 2019
During the holidays, we are often preoccupied with the season's hustle and bustle, the tasty foods, and the tremendous amount of effort spent in giving. Join us for a Yoga tune-up this holiday season. Explore and realign with the divine nature of being while creating a well-disciplined routine during a time period when it's needed most.
Experience a Yoga tune-up as you:
Learn how to harmonize with nature's cycles through Ayurvedic principles
Learn happy eating habits for the holidays with Ayurvedic principles
Tune up with your Higher Self through traditional yogic practices
Relax, rejuvenate, and recharge your batteries for the season with meditation, Hatha Yoga, and Restorative Yoga
As a gift to your most sacred friend and family member—yourself—come to Yogaville for a weekend to decompress and charge our being with light and love, and learn new tips for managing the holidays with joy and peace.
Continuing Education (CE) Opportunities
Testimonials
I wish I could spend a month with Leticia learning about Ayurveda. Leticia is truly a master of her craft.  I only wish I could stay longer. — Brianna Patten

I learned a lot of good tips and practical examples to cope with stress [in my] daily routine. — Miriam

Padmasri is a pure joy as an instructor. She has a lot of charisma and enthusiasm for Yoga and Ayurveda. She combines a youthful and joyous earnestness with a wisdom beyond her years. — Jonah
Presenter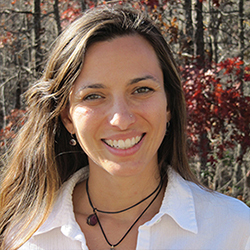 Letícia Padmasri, M.A., E-RYT 500, C-IAYT
Letícia Padmasri is an Ayurvedic Lifestyle Consultant, a certified Advanced Integral Yoga® Hatha teacher, and a certified Raja Yoga teacher. She holds a bachelor's degree in exercise science, a master's degree in education, and has dedicated many years towards the study of exercise physiology. She combines her love for the sciences of Yoga and Ayurveda with her interest in the body's structure and function, helping students of all levels adapt their practices to achieve optimal health and total well-being. In addition to being one of Yogaville's primary teacher trainers, she also offers workshops and seminars in the US and Brazil.…
Learn more about Letícia Padmasri, M.A., E-RYT 500, C-IAYT