Midweek Seminar: Using Your Voice, Mantras, and Devotion
with Gita Zember, RYT 500
April 16 - 18, 2019
Learn to come more fully into the confidence of your voice for chanting on your own, chanting mantras for your class, or leading kirtan (chanting of sacred sounds). Join Gita Zember of Gita's Dream Kirtan for an empowering midweek seminar.
Topics include:
Introduction to instruments, the roles they play, and what to look for if buying; including a brief introduction on how to play harmonium, mridanga, and kartals
How to lead mantra chanting and kirtan
Building confidence to lead a small group of friends or maybe even more!
Questions about leading kirtan and the dynamics of working with other musicians
The Sanskrit alphabet and its amazing healing vibrations
Enjoying kirtan together!
Continuing Education Opportunities
Midweek Seminars
Midweek Seminars not only offer special lectures to help you deepen your practice, but also allow the time, space, and guidance to relax and go within. This is the perfect opportunity to embrace the quiet of the Ashram and the knowledge of its teachers.
Join our daily schedule
Take classes in your area of interest
Enjoy our natural setting and sacred spaces
Connect with like-minded people
Testimonials
Gita's influence is as blinding as her gigantic smile. She can perfect people's poses with the press of a finger and move from silliness to profundity in the span of a sentence. Her fresh, jubilant, and always amusing methods are unique. What more do you want? — Andy

Gita's presence is a valuable transmission of energy. — Program Participant
Presenter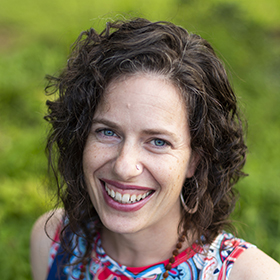 Gita Zember, RYT 500
When Gita Zember chants you can feel the devotion through her voice and heart. She chants as much as she can in and around DC, MD, and VA, and occasionally tours abroad. She started chanting when it became an integral part of her work with children with special needs and hasn't been able to stop. She never had a harmonium lesson or a workshop on how to lead kirtan but was led by her heart to just do it and see if anyone showed up. Over 8 years of leading kirtan, creating the DC Kirtan Festival, touring with Swami Gurusharanananda from India,…
Learn more about Gita Zember, RYT 500