iRest Yoga Nidra Immersion Program
with Robin Carnes, E-RYT 500, C-IAYT, MBA
November 8 - 11, 2019
Learn the principles and practice of iRest® Yoga Nidra meditation and experience the variety of ways iRest can be used on and off the mat during this iRest Yoga Nidra Immersion Program.
iRest Yoga Nidra is a research-based meditation, relaxation, and healing protocol that enables you to deeply calm your nervous system, integrate difficult thoughts and emotions and awaken to your essential nature. iRest meditation is an excellent personal practice as well as an adjunctive practice for healthcare and healing professionals. Research shows that iRest effectively reduces stress, insomnia, anxiety, depression, chronic pain, and post-traumatic stress disorder and enhances joy, equanimity, and well-being in daily life.
Through experiential practice and dynamic dialogue you will:
Learn the 10-step iRest protocol to enhance your personal meditation practice
Explore how to integrate the practices of iRest into daily life
Foster well-being and resiliency to better manage stress and anxiety
Experience BodySensing in movement
Practice BreathSensing for increased energy and relaxation
Learn to skillfully meet difficult emotions and beliefs in daily life
Access an inner resource of well-being, ease, security, and peace
Awaken to your essential wholeness
Experiment with playful, improvisational movement, sound, and art activities to reflect on what opens up within yourself when actions flow spontaneously from your essential wholeness
This iRest Yoga Nidra Immersion fulfills the short retreat requirement of the iRest Certification Program.
This program is open to everyone—both newcomers and experienced iRest practitioners alike—wishing to sample the fullness that iRest has to offer for health, healing, and wholeness of being.
Continuing Education (CE) Opportunities
Yoga Alliance (YA):  Approximately 15 contact hours.
You can input your contact hours using your YA log in information.
Integral Yoga Teachers Association (IYTA) can provide you a CE certificate with your program's total contact hours for a $10 fee (free for IYTA members.) For more information, email 

[email protected]

.
Healthcare and Related Disciplines: Although CMEs are not offered, a certificate documenting CE hours may be available for your discipline. Please contact

[email protected]

for details.
Testimonials
If you're looking for a way—a way to be the best you (that) you can be, or find your way home: iRest is a path… Sourcing self is a gift that keeps on giving. The Self is waiting. — Julie Alter

Beautiful immersion in experiencing iRest. Wonderful combination of fun and learning and experience. — Past Participant

Excellent program and awesome facilitator. Robin Carnes and Lauren without question made the experience the best. I am learning how important the iRest practices are to open us to being receptive, welcoming creativity of our inner self, and of course more. — Jody Blankenship

I appreciated the personal aspects of the program, the support of staff, and organization. Yogaville is a great place to rest, rejuvenate, and learn so I can go out into the world to do what I need to do. — Connie Johnson

I am an iRest teacher and know both the material and the presenter well. I needed personal R&R. I got that and much more. It was all delightful. — 2017 Participant
Presenter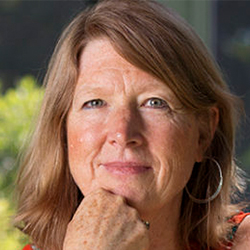 Robin Carnes, E-RYT 500, C-IAYT, MBA
Robin is well recognized as a pioneer and innovator in the field of mind-body therapies for trauma and related conditions. Her work has been featured in The Washington Post, Woman's Day Magazine, Yoga Journal, Army Magazine, The Huffington Post, Defense.gov, and Yoga International. She presents regularly at conferences and lectured at the National Defense University. Robin appears in the award-winning documentary, Escape Fire: The Fight to Rescue America's Healthcare. In 2013, The Smithsonian Institute recognized Robin for bringing Yoga and meditation to military communities. Since 2012, she has a private Yoga therapy practice, working mainly with civilians who suffer from…
Learn more about Robin Carnes, E-RYT 500, C-IAYT, MBA