Midweek Seminar: Yoga in Daily Life
with Swami Gurucharanananda "Mataji" and Siva Buechner, RYT 500, B.A.
February 19 - 21, 2019
Did you know that the teachings of Yoga can uplift every dimension of your day? Join us and you will see!
Explore ways the light of Yoga can shine more abundantly throughout your days to benefit everyone and everything.
Topics include:
The value of cultivating a healthy attitude
Ways to stay peaceful in all types of relationships and communications
How simple practices of kindness and gentleness can uncover the beauty around you
The importance of having clear goals that guide each day
Come for a few days to talk together, walk together, laugh together. You'll see that life is all for fun!
Midweek Seminars
Midweek Seminars not only offer special lectures to help you deepen your practice, but also allow the time, space, and guidance to relax and go within. This is the perfect opportunity to embrace the quiet of the Ashram and the knowledge of its teachers.
Join our daily schedule
Take classes in your area of interest
Enjoy our natural setting and sacred spaces
Connect with like-minded people
Testimonials
Mataji is the real deal. She truly is a real teacher and has such love, which shows in every answer and every teaching. It was a privilege to be in her company. — Past Participant

Mataji was a wonderful, compassionate guide for the class. Her stories allowed me to see how I can implement my meditation practice into my daily life. — Past Participant
Presenters
Swami Gurucharanananda "Mataji"
Swami Gurucharanananda, lovingly called Mataji, is a senior sannyasi (monk) and disciple of Gurudev, Sri Swami Satchidanandaji Maharaj. She serves on the Sannyas Board. Mataji is a guided meditation leader and Hatha Yoga teacher, an inspiring speaker, Integral Yoga® mentor, and private retreat guide, both in the US and abroad. She loves to offer pujas (worship service), read Sri Gurudev's teachings at lunch, and play the violin as a wake-up call in the dorms! In 2014 she was awarded the Swami Satchidananda Lifetime Service Award. Mataji always has a loving, joy-filled smile ready for you!
Learn more about Swami Gurucharanananda "Mataji"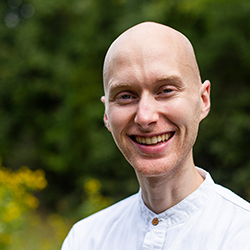 Siva Buechner, RYT 500, B.A.
Siva currently serves in the Office of Spiritual Development at Satchidananda Ashram–Yogaville and leads sessions in Hatha Yoga, Yoga Nidra, and guided meditation. Prior to being at the Ashram, Siva studied at Wake Forest University, finishing with a double major in Economics and English. Shortly thereafter, he embraced the example of Mahatma Gandhi and embarked full-time on the spiritual quest: intentionally living without money, practicing daily meditation and Yoga, and being of service to the moment. By grace, he arrived at Yogaville in 2013 and has since received training in Raja Yoga, Meditation, Yoga of Recovery, and Laugha Yoga.
Learn more about Siva Buechner, RYT 500, B.A.