Yoga of Recovery: Healing the Habits that Bind Us – Module A
with Durga Leela, E-RYT 500
September 12 - 19, 2019
Yoga of Recovery® is the first comprehensive course to combine Ayurveda and Yoga with traditional recovery tools and 12-step principles to offer a more holistic mind, body, and spirit approach to addiction and self-destructive behaviors.
This program invites you to undertake heartfelt self-reflection in regard to the addictive processes in your life. You will be intimately guided to use science, Yoga, and spirituality for your unique recovery process.
Gain a profound understanding of the roots of addictive personalities and learn about the many healing tools for self-destructive habits. Explore how the ancient sciences of Yoga and Ayurveda can help you deepen your connection with yourself and choose new behaviors out of self-love.
Learn emotional regulation, self-soothing techniques, and deep relaxation. You will have the opportunity to participate in group sharing and discussions and attend optional 12-step meetings. Explore your own addictive behaviors and heal them at the root level.
Private Ayurvedic consultations and body treatments will also be available (additional fee and pre-booking required).

The weekend workshop, Yoga of Recovery: Wholehearted Recovery on September 12–15, 2019, is part of this training.

Certification Information
"Yoga of Recovery: Healing the Habits that Bind Us" is Module A of a longer, in-depth certification program. Everyone is welcome.
Prerequisites
Open to all. We suggest at least three months of continuous sobriety from alcohol/chemical dependent guests, as we are not a medical/detox facility (if this is the level of care you need please seek appropriate help immediately). Please contact us if you feel able to attend in your early sobriety—we'd like to ensure that the retreat is the best option for you. Those with eating disorders or behavioral addictions (relationships, gambling, spending, etc.) should have enough stability to embark on this work.
Continuing Education (CE) Opportunities
Testimonials
Durga Leela is a treasure. She's one of the best instructors I've ever had. — Past Participant

I was struggling with myself. This program gave me the strength I needed. It was a week that was very valuable and won't be forgotten. — Past Participant

A way to sum up my experience best would be to say that it was "the best 11 days of my life." The time that I spent at the Ashram with all the other participants in the YoR certification program that have been touched by the disease/dis-ease of addiction was very helpful to me to say the least. The knowledge that Durga shared with us about the relationship between the philosophy and practice of Yoga, an Ayurvedic diet and daily routines, and the connection to the 12 Steps created a shift in me and an understanding of myself that gave me hope that maybe "if" I use these tools, I could finally move forward in my life without my attachment and addiction to alcohol and drugs. The 6 Tenets of Yoga of Recovery are especially profound in creating that understanding of oneself and of life in general. — Past Participant
Presenter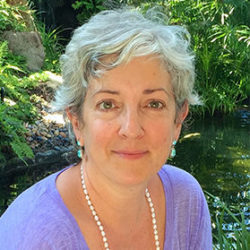 Durga Leela, E-RYT 500
Durga Leela is a practical, down-to-earth, and to-the-point speaker who has worked on her own path of recovery. Trained in Ayurveda in both the U.S. and India, she is the director of the Ayurveda Programs at the Sivananda Yoga Farm in Grass Valey, CA, and a professional member and conference speaker for the National Ayurvedic Medical Association (NAMA) and International Association of Yoga Therapists (IAYT). Durga has been interviewed for all Recovery 2.0 online conferences. See more at YogaOfRecovery.com
Learn more about Durga Leela, E-RYT 500