Yoga for the Core: Understanding the Anatomy of Your Center
with Letícia Padmasri, M.A., E-RYT 500, C-IAYT
October 4 - 6, 2019
This isn't a typical core workshop—you won't work out to exhaust your center.  You will still learn practices that strengthen your core, but more than that, you will develop awareness of your physical center. Awareness is key to developing core stability, the perfect balance between strength and mobility.
A major muscle impacting this process is the psoas muscle. Among the most common problems caused by dysfunction of the psoas muscle is lower back and hip pain, though many other areas of the body can also experience pain.
Join Padmasri to learn how a stable core and functional psoas muscle can enhance the joint integrity, muscle tone, breathing, and healthy organ functioning.
In this workshop, you will:
Understand the role of the psoas muscle in core awareness and stability
Learn to release and soften your psoas muscles
Learn Yoga asanas for improved core stability
Discover the connections between the core and breathing
Explore sitting habits and seated asanas for improved meditation experiences
Learning to develop core awareness and improve core stability can be nourishing, freeing, and will directly affect the quality of your life.
This workshop is suitable for Yoga therapists, teachers, and devoted practitioners.
Program registration: 2 pm
Continuing Education (CE) Opportunities
Additional Information
One of the most important core muscles is the iliopsoas. Because of prolonged sitting and other habits, this muscle ends up restricted. A healthy psoas is the first step toward a steady and comfortable Yoga practice. In this workshop, you will explore the psoas, working with core awareness through the practice of Yoga asanas. By working with your center, you can develop the ability to consciously respond to life situations rather than react to them. You can refine your capacity to be alert, responsive, and open-hearted.
Testimonials
The anatomy information was most useful, as well as pranayama and the fellowship. I definitely got what I came for and more!—Past Participant.

The program was amazing; I learned a lot about my body and physical abilities. The program was structured wonderfully, providing valuable handouts, and well paced breaks in between classes.—Alia Lachmansingh

This weekend program definitely met my expectations. Well done!—Past Participant

This seminar arrived in my life when I most needed it; with "chronic" back pain, I needed a way forward. This class was perfect, thank you for offering this class! Padmasri is the best teacher I have ever experienced! Thanks Padmasri!—David Rapp

 
Presenter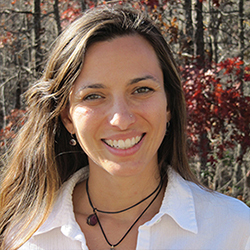 Letícia Padmasri, M.A., E-RYT 500, C-IAYT
Letícia Padmasri is an Ayurvedic Lifestyle Consultant, a certified Advanced Integral Yoga® Hatha teacher, and a certified Raja Yoga teacher. She holds a bachelor's degree in exercise science, a master's degree in education, and has dedicated many years towards the study of exercise physiology. She combines her love for the sciences of Yoga and Ayurveda with her interest in the body's structure and function, helping students of all levels adapt their practices to achieve optimal health and total well-being. In addition to being one of Yogaville's primary teacher trainers, she also offers workshops and seminars in the US and Brazil.…
Learn more about Letícia Padmasri, M.A., E-RYT 500, C-IAYT