Yoga and Creativity for Emotional Resilience
with Swami Vidyananda, E-RYT 500, C-IAYT and Shanti Norris, C-IAYT
May 3 - 7, 2019
Harness the healing power of Yoga and creativity to establish emotional stability and resilience during this weekend workshop. Yoga can help you lead a happier, more cheerful life. If negative thoughts and feelings keep you from happiness, Integral Yoga has practices to deeply transform and balance the emotions.
In this workshop you will explore:
The psychological impact of Yoga asana (posture) practice
Breathing practices to increase day-to-day coping skills
The healing power of art and creativity to access and process emotions
Grounding meditation for emotional balance
How to take Yoga off the mat and into daily life to develop healthy emotions
Our goal is to integrate the mind and heart so we feel peaceful always. Join us for a Yoga and Creativity workshop to collectively work toward this goal.
This is a great workshop for Yoga teachers as well as students.
Continuing Education (CE) Opportunities
Testimonials
Swami Vidyananda was approachable, engaging, and inspirational. I highly recommend any program presented by her. — Beth

The whole experience is well supported and wonderful. The whole community is heartful and helpful, especially for someone like me being here for the first time. Swami Vidyananda rocks! — Past Participant

[Swami Vidyananda's] advice/instruction was very practical and relevant. She is so knowledgeable, approachable, and kind. — Past Participant
Presenters
Swami Vidyananda, E-RYT 500, C-IAYT
Swami Vidyananda began practicing Yoga in 1969 and has been teaching Integral Yoga® and training Yoga teachers since 1973. She became a swami (monastic) in 1983. She has taught and trained Yoga and meditation teachers throughout the US and Canada, as well as Australia, Europe, and India. She presently lives at Satchidananda Ashram–Yogaville, VA, where she teaches all branches of Integral Yoga, including Hatha, Raja, and Jnana Yoga, meditation, and yogic lifestyle. She continues to travel widely, training Yoga teachers and offering workshops on meditation, stress management, Yoga and the emotions, and mid-life meaning. Before becoming a Yoga teacher, Vidyananda…
Learn more about Swami Vidyananda, E-RYT 500, C-IAYT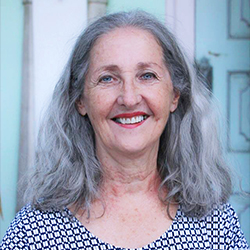 Shanti Norris, C-IAYT
Shanti Norris is an artist and art and healing consultant with over 45 years of experience practicing and teaching Yoga. She was co-founder and executive director of Smith Center for Healing and the Arts in Washington, D.C. and was assistant to Swami Satchidananda for 10 years.
Learn more about Shanti Norris, C-IAYT