Kirtan College: A Weekend Chanting Intensive
with David Newman "Durga Das"
September 26 - 29, 2019
Open your heart with song and devotion at Kirtan College. This in-depth course is designed to help all people explore kirtan and Bhakti Yoga.  It's a concise training to deepen your understanding and practice of the rich tradition of Indian chanting and the Yoga of loving devotion.
Join David for a weekend of celebration and learning that includes:
Sanskrit mantra pronunciation and translation
Methodology for practicing and leading kirtan
Musical guidance and support
Teachings and practices of the Bhakti Yoga tradition
Storytelling of India's ancient myths
This workshop is designed to deepen your relationship with kirtan and help you gain more confidence leading kirtan. This program is open to everyone. No musical background required.
Continuing Education (CE) Opportunities
Testimonials
This program truly opened my heart up to the idea of devotion to God in a new way. It is a wonderful addition to my Yoga practice, and I know there is some cracking open of an emotional shell that will come as I continue to allow my heart to open. This is an amazing first step. — Ryan Bailey

This program exceeded my expectations. David is a talented presenter—great, joyful, and funny! — Past Participant

If you are looking for a heart-opening experience, this is it. — Angel Metro
Presenter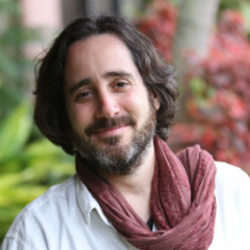 David Newman "Durga Das"
David Newman "Durga Das" is a renowned sacred mantra artist, singer-songwriter, author, and inspirational teacher. David, also known as Durga Das, travels extensively sharing his music and teachings on the path of love as a vehicle for spiritual awakening. He has released numerous chart-topping world music albums and is the author of the #1 Amazon bestseller The Timebound Traveler. David is also the founder of the Stay Strong Project and Yoga On Main. He has been featured on NPR and in The Washington Post and Yoga Journal among many others. See more at davidnewmanmusic.com
Learn more about David Newman "Durga Das"