Meditation Teacher Training
with Swami Karunananda, E-RYT 500
June 17 - 30, 2019
Swami Satchidananda said: "Meditation is the most important practice. Most of our problems in life would be solved if we meditated regularly." This is because our whole experience of life is based on the condition of the mind, and meditation enables us to understand and gain mastery over the mind. As the mind becomes stronger, clearer, and calmer, we experience greater efficiency, harmony, and balance in life. Because of the connection between body and mind, our health improves as well. Ultimately, we are able to transcend the mind and realize our true nature, a state of supreme peace and joy—free of all sorrow, fear, and delusion.
The Meditation Teacher Training will show you how to deepen your own meditation practice and guide others in establishing a practice of their own.
The curriculum includes:
Meditation theory
Principal meditation techniques, including: mantra, witnessing, Self-inquiry, visualization, and prayer
The role of asana (posture) and pranayama (yogic breathing) in meditation
Obstacles to meditation practice and how to overcome them
Methods for integrating meditation into daily life
Instruction in leading guided meditations
Develop a personal practice plan and emerge with the knowledge, skill, and confidence to teach a six-week course as well as meditation workshops. In a world that is so much in need of peace, meditation is a time-honored practice that will empower you and your students to discover the peace within.
Training Information
Prerequisites
This course is available to certified Yoga instructors of all traditions who have had a regular daily meditation practice for at least six months. Applicants should be familiar with the Integral Yoga® style of Hatha Yoga practice. If not, you can click here to purchase a DVD of our Level 1 class led by Swami Satchidananda. There is also a YouTube video available of our Level 1 class. Also recommended is the Guided Relaxation CD by Sri Swami Satchidananda.
If you have any questions, please contact the IY Academy at [email protected] or (434) 969-3121 x153 before submitting your application and non-refundable application fee.
Continuing Education (CE) Opportunities
Testimonials
[Swami Karunananda] made me feel very calm and prepared to control the mind.

[She has an] amazing capacity to explain complex things in an easy way.

Swami Karunananda is extremely knowledgeable and her presentation is without equal. Her use of stories to illustrate a point is superb.

Swami Karunananda has an excellent way of sharing her treasure trove of knowledge of meditation.

— Past Participants
Presenter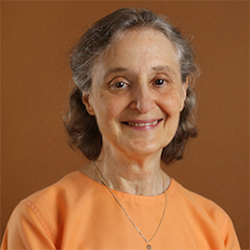 Swami Karunananda, E-RYT 500
Swami Karunananda, is a senior disciple of Sri Swami Satchidananda. In 1975, she was ordained as a monk into the Holy Order of Sannyas. She has been teaching all aspects of Yoga since 1971, and specializes now in workshops, retreats, and teacher training programs that focus on the science of meditation, the philosophy of Yoga, personal transformation, and Yoga breathing techniques for better health and wellbeing. In 1989, she developed and has taught, the Integral Yoga® Teacher Training programs in Raja Yoga and in Meditation. Swami Karunananda served as president of Satchidananda Ashram–Yogaville in Virginia and in California, as well…
Learn more about Swami Karunananda, E-RYT 500