Nitya Living™ Kid's Yoga Training
with Nitya Griffith, E-RYT 200, CRYT
May 29 - June 2, 2019
If you love kids and love Yoga, join us for a Nitya Living™ Kid's Yoga teacher training to combine your passions and share the healing practices of Yoga with the youngest generation.
Nitya Griffith has developed a unique approach to teaching children that incorporates storytelling and songs to engage their bodies, minds, and imaginations. Now offered nationwide, this program provides the opportunity to make an impact in the lives of children by becoming a Nitya Living teacher.
Together we can create a culture of peace, one child at a time.
The Nitya Living training includes:
An approach to teaching children ages 2–9
A deep understanding of anatomy and the body of a child
Mindfulness practices for teens
Ways to approach special needs populations, private classes, and more
Nitya's original scripts, a copy of Nitya's DVD, and access to her exclusive library of original songs
A copy of each of Nitya's books, A Child's Journey into Yoga, The Yoga with Nitya Cookbook, and Musings from Mat: Inspirations and Poetry
A franchising opportunity for launching a Nitya Living™ Kid's Yoga Summer Camp in your area
You will find the Nitya Living™ Kid's Yoga Training to be engaging, authentic, inspiring, and very generous in sharing the talents that Nitya has honed for the past 12 years.
Training Information
Prerequisites
A willingness to sing, a love for children, the ability to participate in storytelling, a healthy lifestyle, and a knowledge of Yoga are all important skills for this training.
Experience with Hatha Yoga is necessary.
A 200-hour Yoga certification is not required; however, it is needed to teach an older population of adolescents, such as middle or high school students.
Continuing Education (CE) Opportunities
Yoga Alliance (YA):  Approximately 30 contact hours and 20 non-contact hours (observing classes, watching video/ listening to audio to memorize songs and scripts, and writing an essay.)
You can input your contact hours using your YA log in information.
Integral Yoga Teachers Association (IYTA) can provide you a CE certificate with your program's total contact hours for a $10 fee (free for IYTA members.) For more information, email 

[email protected]

.
You can count the Yoga Alliance CE hours towards 500-hour designation.
Please know this is not part of a 95-hour teacher training with a Registered Children's Yoga School (RCYS).
Testimonials
You have humbled me beyond words. I truly can't thank you enough for everything: for constantly reminding me what I am capable of, for the teacher training, and for the endless possibilities that continue to lie ahead. I am so grateful I get to continue this journey with you! — Becky E.

Hi! I can't stop smiling whenever I see my certificate! I am very eager to start teaching classes. — Scout R.
Presenter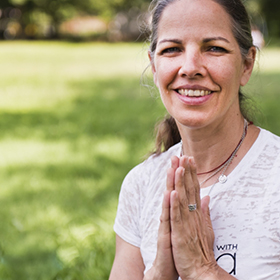 Nitya Griffith, E-RYT 200, CRYT
Nitya, the founder of Nitya Living™, has been an Integral Yoga teacher since 2005. She offers creative children's Yoga programs with asanas, meditation, mindfulness practices, and breathing practices through storytelling and original songs. Nitya has published the Yoga with Nitya Kid's Yoga DVD; the Satchidananda Ashram–Yogaville Coloring Book: A Child's Journey into Yoga; Yoga with Nitya Cookbook: Seasonal, Local, Vegetarian Meals for a Healthy Family; and her latest Musings from Mat: Inspirations and Poetry. See more at nityaliving.com
Learn more about Nitya Griffith, E-RYT 200, CRYT