The Art of Giving and Receiving: Vedic Thai Yoga Bodywork
with Sudevi Linda Kramer, LMT, E-RYT 500, M.A.
April 26 - 28, 2019
Experience exotic stretches and Thai Yoga bodywork —a synthesis of acupressure, rhythmic compressions, ancient breathing arts, and meditation. Utilized therapeutically in Thailand, Thai Yoga produces balance and harmony within the body, mind, and spirit.
You will:
Study a 3,000-year-old traditional Asian folk art that creates radiant whole health
Enjoy strengthened vitality through bandhas (body locks), pranayama (breathing exercises), and meditation techniques for personal focus
Experience simple procedures to assist in rapidly eliminating physical and emotional dis-ease
Discover how to harmonize Shakti/Chi (life energy) to enhance the immune system and hormonal health, balance mental energy, and stimulate higher levels of consciousness
Receive bodywork as you learn!
Learn Thai self-care techniques—a great feature to add on to Yoga classes

Explore Thai Ayurvedic element theory and marmas
This course is suitable for Yoga instructors, nurses, massage therapists, personal trainers, martial artists, medical professionals, health enthusiasts, musicians, dancers, and all who are interested in vitality and loving compassion (metta). Vedic Thai Bodywork is also a folk art suitable for families.
This is an open-level course. Come and begin or continue the healing journey.
Continuing Education Opportunities
Additional Information
Thai Yoga Bodywork is a unique practice. Backgrounds in massage and Yoga are helpful for learning Thai Yoga, but no experience is necessary. In Thailand, a student of Thai Yoga would not be required to first attend a preliminary massage school or Yoga training. In the beginning of your studies, you learn Thai Massage through pressure points, stretches, and compressions.
If you are continuing your practice, we will have new asanas (postures) or katas (system of martial arts exercises) to share. If you are beginning your journey, you will leave with a foundation in Thai Yoga bodywork.
When asked about levels of learning, one Master in Thailand put it this way: "There is just one level. Then you die." The best practitioner is always the best student.
Testimonials
For the past two years I have trained closely under the guidance of Sudevi. She is the embodiment of the sacred teachings that have been passed down to her and this ancient wisdom is expressed with grace during her trainings. Sudevi blends her extensive knowledge of Yoga and bodywork into her teaching style. She's able to impart the medicinal and pranic healing aspects of the work which are part of the Thai culture and Thai massage lineage. Keeping the Thai flavor fresh, she returns bi-annually to Thailand leading student study tours. I want to go again!—Ashley Semola, LMT, Integral Yoga Teacher

Sudevi's sadhana pours into her teaching. She bestows each of her students with Satchidananda: Truth, knowledge, bliss absolute!—Sylvia Durga Nofsinger
Presenter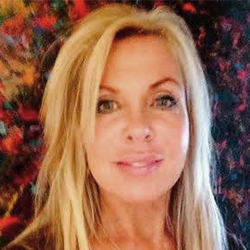 Sudevi Linda Kramer, LMT, E-RYT 500, M.A.
Sudevi Linda Kramer is a highly sought-after certified Vedic Conservatory teacher of Vedic Style Thai-Yoga Bodywork. She is a certified teacher in Integral Yoga and Jivamukti Yoga, a Pranic Healer and Reiki Master, and a licensed massage therapist. She studies in various parts of Thailand and leads annual Study Tours. Sudevi also holds a Master's Degree from the University of Missouri. She has been in private practice for 17 years, and was inducted in the World Massage Hall of Fame. Her particular interest is in Traditional Thai Medicine (TTM). See more at vedicconservatory.com/sudevi-page
Learn more about Sudevi Linda Kramer, LMT, E-RYT 500, M.A.