Basic Meditation: The Key to Everything
with Reverend Bhagavan Metro and Janaka Avallone, RYT 500
January 11 - 13, 2019
A calm and focused mind can achieve anything, and the science of meditation provides the perfect tools for attaining that focus. Backed by modern science, the ancient practice of meditation is profound, simple, and quickly rewarding.
Discover how and why meditation reduces stress and promotes spiritual, emotional, and psychological benefits.
During this workshop, you will:
Experience the transformative practice of meditation
Explore a variety of meditation techniques to enhance your practice, including walking meditation, mantra meditation, and breath awareness
Learn ways to use meditation in various situations
Discover the original purpose of meditation—to realize the true Self
If you have difficulty meditating or simply want to fortify your practice, this workshop will help you develop the clarity and concentration that enable you to become the master of your own mind.
This program is ideal for those who are new to meditation or those who have meditation experience but want to refresh their practice.
Testimonials
I enjoyed the instructional sessions that we received. It was wonderful to have very experienced instructors. — Program Participant
I found Lakshmi and Paraman so helpful, honest, easygoing, intelligent, willing, who provided wonderful examples! I wanted to move in with them! — Michele Fischer
Presenters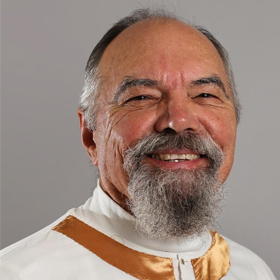 Reverend Bhagavan Metro
Reverend Bhagavan Metro has been a devotee of Sri Swami Satchidananda since 1973 and has lived at Satchidananda Ashram–Yogaville, Virginia since 1981. Reverend Bhagavan is a certified Integral Yoga instructor and was ordained as a minister of Integral Yoga in 1980. He has served as a member of the Integral Yoga Ministry Board for over 15 years and has served as past chairman of the board. Bhagavan was the Integral Yoga Ministry Seminary director for many years and currently sits on the Spiritual Life Board. As co-owner of New Age Builders, he built many of the buildings on the Ashram…
Learn more about Reverend Bhagavan Metro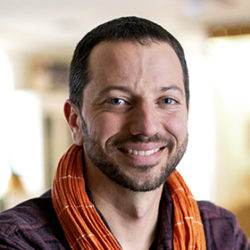 Janaka Avallone, RYT 500
Janaka has clear memories of his own first steps onto the path of meditation and Yoga 13 years ago. He was 25 and had just suffered a painful breakup that motivated him to begin his own quest for inner joy and peace. That quest took him around the world to respected centers of meditation including Yogaville, Kripalu, and the Byron Bay Yoga Center in Australia where he earned a 500-hour Yoga teacher certificate. Janaka was drawn to dive deeply into meditation, which he says, "Gave me access to a sense of peace and gratitude regardless of life's ever-changing circumstances." As a…
Learn more about Janaka Avallone, RYT 500