Going Deeper in Raja Yoga
with Swami Karunananda, E-RYT 500
March 15 - 17, 2019
Raja Yoga is a pathway to liberation—freedom from all sorrow, fear, delusion, and suffering. It explores the nature of suffering from philosophical and practical perspectives and explains how to overcome it. It shows the way to maintain equanimity when facing personal obstacles or dealing with global problems. Ultimately, the study and practice of Raja Yoga enables you to experience the highest spiritual realization and abide in peace and joy always.
This wisdom is beautifully presented in a comprehensive system that addresses all aspects of the individual—social, physical, emotional, intellectual, and spiritual.
Topics include:
The nature of the mind
The experience of suffering
Attachment vs non-attachment
Skill and method in spiritual practice
How to overcome obstacles
On this course, you will have a unique opportunity to dive deep into The Yoga Sutras of Patanjali, the classical text on Raja Yoga, and learn how to apply these teachings in your life. There will be daily, guided sessions devoted to meditation, Hatha Yoga, and pranayama, as well as lectures, discussions, guided exercises, journaling, and spiritual support sessions.
This program is open to all who wish to deepen their understanding and experience the broad and profound benefits Yoga has to offer. Return home recharged and equipped to make your life healthier, happier, and spiritually focused.
Continuing Education (CE) Opportunities
Testimonials
This program was life-transforming! The knowledge, time, and love put into this program for each participant's experience is more than I could ask for! — Megan Hainstock

I found the community to be wonderful and welcoming. The staff was excellent, and the instruction was warm and profound. I will continue on with what I have learned and will see you again soon. — Andrew Town

I love Swami Karunananda. I have heard her over the years and she really is knowledgeable and understandable. — 2017 Participant
Presenter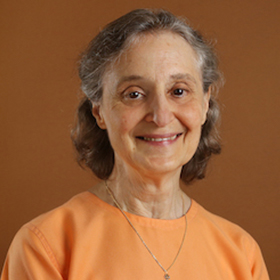 Swami Karunananda, E-RYT 500
Swami Karunananda, is a senior disciple of Sri Swami Satchidananda. In 1975, she was ordained as a monk into the Holy Order of Sannyas. She has had over 40 years experience teaching all aspects of Yoga and specializes now in workshops, retreats, and teacher training programs that focus on the science of meditation, the philosophy of Yoga, personal transformation, and Yoga breathing techniques for better health and wellbeing. She developed, and for over 25 years has taught, the Integral Yoga® Teacher Training programs in Raja Yoga and in Meditation. Swami Karunananda served as president of Satchidananda Ashram–Yogaville in Virginia and…
Learn more about Swami Karunananda, E-RYT 500