Adaptive Hatha Yoga Teacher Training
with Satya Greenstone, E-RYT 500, C-IAYT
July 3 - 12, 2019
Have you ever had a student who's unable to perform even the most basic Yoga poses? You want to help them, but you aren't sure how. Join Satya Greenstone for the Adaptive Hatha Yoga Teacher Training to learn how to accommodate students of varying levels and abilities.
This ten-day course teaches you to adapt the Integral Yoga practices to meet the needs of any individual. You will explore the essential benefits of each asana and Yoga practice and determine how to best implement them without strain—regardless of your students' physical, mental, or emotional conditions.
This training also explores:
Adaptations of asanas (postures) and substitute poses
Chair Yoga, which is helpful for students with limited mobility or space
Gentle warm-ups and stretches
Safe and effective prop use
Strategies for introducing other Yoga practices, such as meditation, chanting, and deep relaxation
Training Information

Prerequisites
200-hour Integral Yoga Teacher Training or the equivalent. Certified Teachers from other traditions may also apply for consideration.
Continuing Education Opportunities
Additional Information
Adaptive Yoga gives us the tools to reach various populations that may not have had access to the benefits of Hatha Yoga. In addition to Yoga studios, Adaptive Yoga classes can be offered in senior centers, rehabilitation facilities, recreation centers, hospitals, churches, and community centers.
An Adaptive Yoga class provides all the benefits of the basic Integral Yoga Class at the level that the individual student is capable of practicing. You will learn to create safe, comfortable Yoga sessions for all of your students. Teaching techniques learned in this training will give you more options for accommodating people with limited mobility, students in private classes, and various levels in group classes.
Testimonials
Satya held such a large healing and supportive space for us. She teaches from the heart and leads me to my heart while "sneaking" lots of "academia" in under the radar. When you fully show up, and sometimes just barely at that, you're blessed with knowledge, support, and growth. — Past Participant

This is my second training with Satya. She is knowledgeable and interesting. She knows her stuff. The teaching manual was excellent and well-thought-out. I would definitely like to take another training with her. — Past Participant
Presenter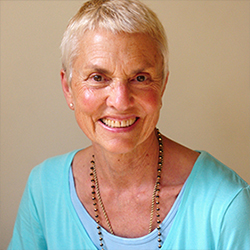 Satya Greenstone, E-RYT 500, C-IAYT
Satya Greenstone has been a student of Sri Swami Satchidananda since 1971. She has shared the teachings of Integral Yoga® in many diverse settings with students of all ages and backgrounds and combines a natural, practical, down-to-earth approach to Yoga with a gentle humor. Since 1999 she has been a primary teacher for the 200-hour and the Intermediate Yoga Teacher Training programs. While serving as teacher training coordinator, she helped to develop and teach the first Gentle Yoga Teacher Training program. She has also developed and teaches training programs in Restorative Yoga, Adaptive Yoga, and Yoga and Meditation for Children. In…
Learn more about Satya Greenstone, E-RYT 500, C-IAYT