Laugha Yoga 3-Day Leader Certification
with Bharata Wingham, E-RYT 200, CLYT
March 22 - 24, 2019
A fun way to awaken yourself
and others to the love of laughter.
Laugha Yoga is an ancient, new idea for reconnecting us to our true Self. Through yogic laughter sessions, Laugha Nidra® (guided deep relaxation following the laughter), pranayama (yogic breathing practices) and meditation we can reach a profound level of peace, joy, and relaxation.
Presenter Interview
In this Laugha Yoga certification program, you will:
Get certified and learn to lead Laugha Yoga Sessions
Play freestyle laughter games, which release endorphins and T-Cells to produce immediate and profound boosts to your mood, immunity, health, creativity and confidence levels
Discover why prolonged intentional laughter, a simple technique that has been overlooked for centuries, is being recognized again as a therapeutic method (first publicized in the West by Norman Cousins in his book Anatomy of an Illness)
Learn how to use laughter as a form of social medicine spreading social health to the world
Learn to lead a Laugha Yoga class
Receive a  Laugha Yoga Leader's Manual, downloadable zip file filled with printable handouts of laughter benefits, writings and audio/video
After completion enjoy a 90% discount for access to Dr. Madan Kataria's worldwide Laughter Yoga ProZone website for six months
---
Early registration: 2 pm
Program start time: 4 pm
Refresh Course: $135
---
Certification Information
Graduates receive a manual, certificate and digital resources to lead Laugha Yoga Sessions (Certified Laugha Yoga Leader – LYL1) after completion of the weekend.
Prerequisite
None.
Continuing Education (CE) Opportunities
---
Read an article by Bharata in Hektoen International Journal published by the Hektoen Institute of Medicine about how medical science is discovering how laughter can be very beneficial to the overall health of people.
Fitness Magazine declared laughter as one of the 5 top priorities for a healthy lifestyle. "Laughter RX: At least 30 minutes every day…could chase away the blues." And quoting Hinduism Today, about the founder of 150 laughing clubs in India,"…the good doctor has popularized ancient yoga breathing and posture that exercises all 32 facial muscles… opens the breathing, builds self-confidence and even alleviates high blood pressure and arthritis."
Well, most of us already felt that laughter was very good for us without it being scientifically proven. We just knew it! But, it is nice to have science prove that such a simple practice, regularly undertaken, can have such wonderful benefits.
Click here for  upcoming certifications and Free All-Day Laugha Workshop
Testimonials
Ha! Ha! Thanks! I'm holding you – and Yogaville, responsible for this sudden life change! I was a completely introverted photographer and professor at VA Tech before showing up at your door! LOL! Crazy how life turns out! Thanks! [Later] Teaching Laugha Yoga tomorrow at NASA!!! Just found out I'm in the large auditorium with 74 engineers! NOOOOOOO idea how my calm quiet life turned into this! LOL!

Since taking your workshop, a new spirit surrounds me. My family and co-workers see it….seriously! I laugh all day long without the logical mind chatting it up. I talk about it as much as I can….and have my co-workers chanting VERY GOOD VERY GOOD YAY! Yep….even at staff meetings.

I feel fortunate I got a chance to learn the laughter skills from one of the best!!

I work with seniors, and I wanted methods to help give the seniors permission to laugh. I got it.

This program was recommended by my wife.  It made for a wonderful couples weekend.

Most valuable aspect was Bharata's spiritual depth – I expected to learn "how to" I found the spiritual connection very enriching and didn't expect it.

I need more access to joy and happiness in my life – this is it!

— Past Participants
Presenter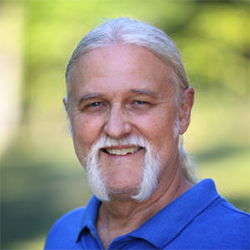 Bharata Wingham, E-RYT 200, CLYT
Bharata is a long-time student of A Course in Miracles, having worked with it daily since 1980. A Laughter Ambassador, he has trained hundreds of Laugha Yoga Leaders and led thousands of people through Laugha Yoga® sessions, a philosophy of spontaneous Self liberation. He was trained and certified in laughter Yoga by Dr. Madan Kataria, founder of the world-wide laughter clubs. For thirteen years, he produced and hosted a television program, A Course in Miracles Study Group, which was distributed in the US and abroad. While conducting numerous programs and workshops, he authored the book, An Ancient New Idea: A Primer on…
Learn more about Bharata Wingham, E-RYT 200, CLYT