200-hour Integral Yoga Teacher Training – Summer
with Lalita Dagny Vigander, E-RYT 500, LMT, RCYT and Raama Das, E-RYT 500, C-IAYT, YACEP
July 14 - August 11, 2019
This comprehensive Yoga teacher certification is a month-long residential program consisting of over 200 class hours. You will learn to teach each portion of the Integral Yoga Level I class, including asanas (Yoga poses), deep relaxation, pranayama (breathing practices), chanting, and meditation.
Additionally, you will explore:
Classes in vegetarian diet
Instruction in basic anatomy and physiology
Chanting instruction—for personal practice and class settings
Raja Yoga (the science of the mind and yogic lifestyle)
Jnana Yoga (the study of Self-inquiry)
Bhakti Yoga (the path of devotion; including chanting, worship, and self-surrender)
Karma Yoga (the practice of selfless service)
Conducting and publicizing classes
Training Information
Prerequisites
Applicants should be regular practitioners of Hatha Yoga for six months, preferably one year. Applicants should be familiar with the Integral Yoga style of Hatha practice. If not, you can click here to purchase a DVD of our Level 1 class led by Swami Satchidananda. There is also a YouTube video available of our Level 1 class.
If you have any questions, please contact the IY Academy at [email protected] or 434.969.3121 x153 before submitting your application and non-refundable application fee.
Certification
Graduates receive a diploma certifying them to teach Integral Yoga Level 1 classes and are awarded 200 Yoga Alliance hours.
Split Teacher Training
We offer the option of splitting our 200-hour training into two 2-week segments if your circumstances don't allow you to take the entire 4-week training contiguously. Inquire upon registration.
Questions?
434.969.3121 x153 • [email protected]
Presenters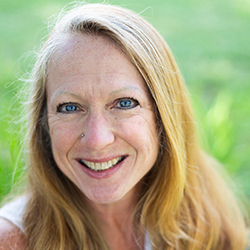 Lalita Dagny Vigander, E-RYT 500, LMT, RCYT
Lalita has been practicing Integral Yoga since 1998, and became an Integral Yoga instructor in 2005. Lalita is now certified in Basic, Intermediate, and Advanced Hatha Yoga, as well as in Stress Management, Raja Yoga, Meditation, Restorative Yoga, Yoga of Recovery, Children's Yoga, and Yoga for People with Cancer. Lalita is one of Yogaville's teacher trainers for the Basic and Intermediate levels, including Anatomy and Physiology. Lalita teaches children, adults, and senior classes along with Meditation and Stress Management classes. She has been invited to lecture at cancer retreats, to a community college and at UT's Administrators retreats and women's…
Learn more about Lalita Dagny Vigander, E-RYT 500, LMT, RCYT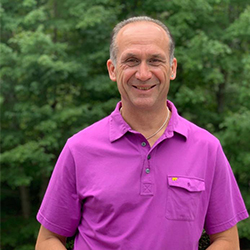 Raama Das, E-RYT 500, C-IAYT, YACEP
Raama Das is a former director of the Integral Yoga® Teachers Association and has been instructing Integral Yoga since 2009. He is a lead trainer for the Integral Yoga 200-hour TT at Yogaville and co-presents both the 200 and 500-hour Yoga Alliance programs at Heal Me Institute in Fredericksburg. Raama recently received certification as a Yoga Therapist through the International Association of Yoga Therapists (IAYT), having studied Yoga programs for specific health conditions, including, anxiety, depression, cancer, heart disease, arthritis, and addiction. He is also certified as a teacher of Intermediate Hatha, Raja Yoga, Meditation, Stress Management, Yin Yoga, and Yoga for…
Learn more about Raama Das, E-RYT 500, C-IAYT, YACEP