Find Your Voice, Open Your Heart: Mantra and Bhakti Yoga
with Gita Zember, RYT 500
February 1 - 3, 2019
Tread the heart-opening devotional path of Bhakti Yoga. Join Gita Zember of Gita's Dream Kirtan to discover how mantra can open your heart to the sacred mysteries of the divine.
Experience the transformational power of mantras (sacred sounds) as you explore chanting in Sanskrit (the ancient language of India). In this workshop, you will dive deeper into kirtan (chanting of sacred sounds) and connect to your inner divine vibration through the vocal expression of these balancing and harmonizing sounds.
Join us this weekend to explore beyond the mat and learn to:
Understand, pronounce, and use mantras, including

kirtan

and

japa

(mantra repetition)

Honor the Divine through

puja

(worship ceremonies)

Tap into your own voice and inner vibration

Utilize the ancient Sanskrit alphabet to promote healing

Incorporate the tools of Bhakti Yoga in your daily practice, opening up your heart to the Divine
Beginners to chanting are welcome.
As part of the morning practice, you will also have the opportunity to explore Swakriya Yoga. Swakriya Yoga is based on the concept that only one force is moving everything, and thus divinity is present everywhere, in every movement. Swakriya literally means the 'movement' (kriya) of 'I' (swa)—the Supreme Self in the form of movement.  In Swakriya Yoga there are different movements, mantras, breathing processes, and postures which accelerate the process of awakening to the truth that the divine is within us in each and every movement.
Continuing Education Opportunities
Yoga Alliance (YA):  Approximately 10 contact hours
Integral Yoga Teachers Association (IYTA) can provide you a CE certificate of your program's total contact hours. For more information, email [email protected]
Testimonials
Gita is a living example of the transformative power of mantras. Her passion is evident in her teaching, kirtan leading, and activism. It's always a pleasure to chant with and learn from Gita. You'll leave feeling inspired and open-hearted, and will probably catch yourself singing in Sanskrit when you least expect it! — Past Participant

Gita's influence is as blinding as her gigantic smile. She can perfect people's poses with the press of a finger and move from silliness to profundity in the span of a sentence. Her fresh, jubilant, and always amusing methods are unique. — Andy
Presenter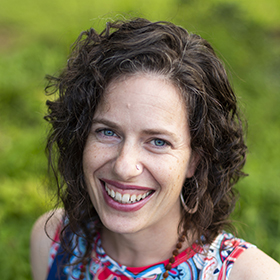 Gita Zember, RYT 500
When Gita Zember chants you can feel the devotion through her voice and heart. She chants as much as she can in and around DC, MD, and VA, and occasionally tours abroad. She started chanting when it became an integral part of her work with children with special needs and hasn't been able to stop. She never had a harmonium lesson or a workshop on how to lead kirtan but was led by her heart to just do it and see if anyone showed up. Over 8 years of leading kirtan, creating the DC Kirtan Festival, touring with Swami Gurusharanananda from India,…
Learn more about Gita Zember, RYT 500