Yoga for the Female Pelvic Floor: Demystifying 'Down There'
with Leslie Howard E-RYT 500, C-IAYT
March 15 - 17, 2019
A pelvic floor requires more than just kegels to stay healthy. Proper strengthening of the pelvic floor helps to create the correct foundation of each movement in the body. This is the true meaning of "core work."
Bring your friends, sisters, mothers, and daughters with you this weekend to learn how to strengthen and stabilize this rarely discussed region of the anatomy.
Developing a strong pelvic floor will help address:
Pelvic pain
Urinary incontinence when laughing or sneezing
Lower back, hip, or groin problems
Frequent urination
Discomfort during sex or while using tampons
Prolapsed organs
Skin irritation
Pelvic floor changes due to pregnancy and birth
In this workshop, you will locate, assess, soften, stretch, strengthen, and exercise the various muscle groups of the pelvic floor. We will also discuss mula bandha (root lock), abdominal health, and how to utilize the pelvic floor in asana (posture).
The workshop will begin with an overview of anatomy, lecture, and discussion, followed by subtle experiential movements to awaken your awareness and understanding of the pelvic floor area. A series of specific exercises and asanas for the pelvic floor will follow. Time permitting, asana that spotlights the pelvis and hip joints will be practiced. Handouts will be provided.
Although helpful, no previous Yoga experience is required.
This workshop is for females or those identifying as female.
Continuing Education (CE) Opportunities
Testimonials
The workshop was fascinating… I have to say I really have never thought much about my pelvic floor and now I am glad to know it is there! Leslie was a great teacher and I think everyone there enjoyed it and learned a ton. — Lisa M., M.D.

[This workshop] completely opened my eyes and created a new awareness of this part of my body, and it was fascinating! In addition to having a lot of fun and laughing a lot, we learned about the pelvic anatomy, function, and specific pelvic exercises. I recommend Leslie Howard's workshop — she is a major goddess! She's funny, and of course super knowledgeable and upset that women don't talk about their pelvic floors. — Corey P.

Leslie is awesome! Very down-to-earth, approachable, funny, and loving. I took her workshop years ago and I still use info from her sessions in my daily practices. — Rukmini Ando
Presenter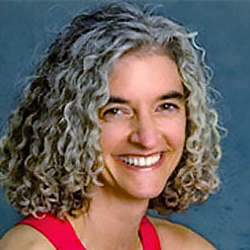 Leslie Howard E-RYT 500, C-IAYT
Leslie is an Oakland-based, internationally-acclaimed Yoga educator who pioneered the growing field of Yoga for pelvic health. Sonima Health named her one of the top 50 Yoga instructors in the USA. Leslie leads Pelvic Floor YogaTM certification trainings and other workshops across the United States and internationally. Her teaching is informed by over 3,500 hours of study with senior Iyengar Yoga teachers, including Manouso Manos, Patricia Walden, and Ramanand Patel. In 2013, Leslie, with contributions from Judith Lasater, co-designed two successful studies at UCSF medical center that demonstrated the effectiveness of her Yoga techniques for incontinence and pelvic pain. Leslie's own…
Learn more about Leslie Howard E-RYT 500, C-IAYT