Midweek Seminar: Yogic Wisdom – The Path of Non-Duality
with Reverend Bhagavan Metro
October 23 - 25, 2018
Eventually, we all ask the question, "Who am I?" Dissatisfied with superficial answers, we seek answers that go beyond labels, categories, names, and forms. Join other seekers for a midweek seminar that will explore the nature of reality and our evolving identification to that which is Unlimited, Permanent, Real, and One.
Learn the powerful Jnana Yoga techniques of witnessing, neti-neti (the Vedic analysis of negation) and the use of vichara (self-inquiry), which lead to awakening to your True Self and the experience of that Supreme Peace which is your birthright.
Midweek Seminars
Midweek Seminars not only offer special lectures to help you deepen your practice, but also allow the time, space, and guidance to relax and go within. This is the perfect opportunity to embrace the quiet of the Ashram and the knowledge of its senior teachers.
Testimonials
Rev. Bhagavan was very precise and helped us understand the nature of the mind. Very knowledgeable and friendly.

[Rev. Bhagavan has a] strong and powerful presence. Great knowledge and example of practice and simplicity.

[Rev. Bhagavan] was funny and made everyone feel welcome.

— Past Participants
Presenter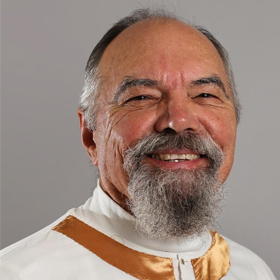 Reverend Bhagavan Metro
Reverend Bhagavan has been a devotee of Sri Swami Satchidananda since 1973 and has lived at Satchidananda Ashram-Yogaville, Virginia since 1981. Reverend Bhagavan is a certified Integral Yoga instructor and was ordained as a minister of Integral Yoga in 1980. He has served as a member of the Integral Yoga Ministry Board for over 15 years and has served as past chairman of the board. Bhagavan was the Integral Yoga Ministry Seminary director for many years and currently sits on the Spiritual Life Board. As co-owner of New Age Builders, he built many of the buildings on the Ashram and…
Learn more about Reverend Bhagavan Metro