Making Happiness a Habit: Wisdom of the Yoga Sutras
with Rev. Sumati Govinda Steinberg, RN, BSN, E-RYT 500, C-IAYT
August 24 - 26, 2018
Tired of being dragged through life by your thoughts, emotions, and physical sensations? There's an easier way to live. Come and discover the power within you to turn your experience of life around. This weekend will illuminate how the Yoga Sutras of Patanjali can be used as a guidebook for happiness.
You'll be guided through a daily practice of gentle Yoga asanas (postures), pranayama (yogic breathing), meditation, deep relaxation, lectures, and Q&A, where you will learn new ways to transcend limiting thoughts and beliefs.
Discover simple methods for turning negative thoughts, feelings, or experiences into positive ones! Learn to be happy despite your challenging life circumstances, and realize that no one has the power to take away your happiness.
Sumati will address numerous topics from the Yoga Sutras, including:
The 8 limbs of Yoga
Yamas (abstentions) and niyamas (observances)
Practice and non-attachment
Kleshas (afflictions)
Koshas (subtle sheaths)
Yogic categories of thoughts and emotions
Obstacles and ways to overcome them
Pratipaksha bhavana (a technique to self-regulate and re-wire habitual neural pathways)
The four locks and keys (guidelines for interacting with others peacefully)
Signs that indicate you are making progress
The ultimate goal of Self-Realization and Liberation
Join us to dive into the wisdom of the Yoga Sutras and make happiness a regular practice in your life!
Continuing Education Opportunities
Yoga Alliance (YA): Approximately 7 contact hours
Integral Yoga Teachers Association (IYTA) can provide you a CE certificate of your program's total contact hours. For more information, email [email protected]
Testimonials
Sumati was such a pleasure to learn from—she is a light in the classroom, a light as a person, and she lives what she teaches. I would recommend anyone who is looking for introspection to consider this course with an open mind. She is great!! — Alicia B.

I love how Sumati weaves the wisdom of the ancients into her everyday conversations, not in a heavy-handed way, but off-the-cuff, as if she has known these sacred truths forever.  Sumati is a gem! — Meeraji Kerr
Presenter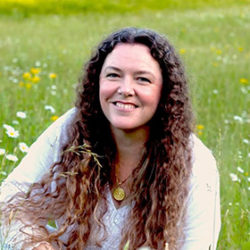 Rev. Sumati Govinda Steinberg, RN, BSN, E-RYT 500, C-IAYT
Reverend Sumati Govinda was born with an intense desire to realize her true nature, a desire that was nurtured by growing up in Satchidananda Ashram–Yogaville.  Drawn to meditation, she began practicing with her father around 2 years old.  Before she entered kindergarten, her passion for the Yoga Sutras of Patanjali was ignited.  She solidified her path by receiving mantra initiation in 1979 from her guru Sri Swami Satchidananda.  Sumati maintains a healthy balance of worldly and spiritual life. She is a Certified Yoga Therapist and an Integral Yoga® Interfaith Minister, and she holds a bachelor's degree in Nursing. Sumati and her…
Learn more about Rev. Sumati Govinda Steinberg, RN, BSN, E-RYT 500, C-IAYT