Pranayama Intensive for Teachers
with Swami Karunananda, E-RYT 500
November 30 - December 2, 2018
As a Yoga teacher, you are a link in an eternal chain—one that continues with each new student that discovers and embraces the teachings. While asana practice has gone mainstream, the subtler teachings of pranayama, which impact physical health, vitality, mental peace, and spiritual awakening, are not as widely known. This intensive is an opportunity to clarify, deepen, and refine your own practice and to learn skills for imparting these teachings to others. If you teach someone how to utilize the breath properly, you will have given that person a key to a happy, healthy, and successful life.
A thorough exploration of pranayama theory and techniques will cover the following topics:
Pranayama and health
Pranic healing visualization
Prana and the mind
Dealing with stress
Prana and the subtle body
Awakening the kundalini
Additionally, an in-depth discussion of teaching methodology will include instruction on how to design a class, elements of a dynamic teaching style, and ideas for inspiring and guiding students.
Come join us and immerse yourself in these deeper teachings of Yoga. Refine your own practice and leave with tools that will enable you to share these beneficial practices with others.
Course Information
Prerequisites
200-hour Yoga teacher certification.
Continuing Education Opportunities
Yoga Alliance (YA):  Approximately 7 contact hours
Integral Yoga Teachers Association (IYTA) can provide you a CE certificate of your program's total contact hours. For more information, email [email protected]
Testimonials
The integration of theory and practice, the balance set, were bizarrely perfect. Sw. Karunananda was absorbing, extraordinarily attentive, and a joy to listen to and practice with. — Nina

Swami Karunananda has an amazing capacity to explain complex things in an easy way. — Past Participant

My life has changed from doing a Pranayama Workshop with Swami Karunananda. I cannot thank her enough. I have never missed a day and have had so many healing benefits since. I have transformed. — Barbara Prema Brown
Presenter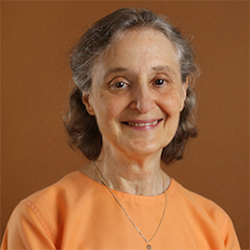 Swami Karunananda, E-RYT 500
Swami Karunananda, is a senior disciple of Sri Swami Satchidananda. In 1975, she was ordained as a monk into the Holy Order of Sannyas. She has had over 40 years experience teaching all aspects of Yoga and specializes now in workshops, retreats, and teacher training programs that focus on the science of meditation, the philosophy of Yoga, personal transformation, and Yoga breathing techniques for better health and wellbeing. She developed, and for over 25 years has taught, the Integral Yoga® Teacher Training programs in Raja Yoga and in Meditation. Swami Karunananda served as president of Satchidananda Ashram–Yogaville in Virginia and…
Learn more about Swami Karunananda, E-RYT 500