Living with Your Nervous System
with Joann Lutz, MSW, LICSW, E-RYT, C-IAYT
December 7 - 9, 2018
Racing heart, sweaty palms, nervous jitters—we are all familiar with the involuntary stress response of the autonomic nervous system, also known as "fight or flight". While a short-term stress response can be helpful for navigating situations safely, lasting stress can have a negative effect on well-being. Yoga is a practice that can help you reclaim and maintain the health of your autonomic nervous system.
The autonomic nervous system sometimes has a mind of its own. It can cause reactions such as tense muscles, anger, and fear, which can last longer than the threat, linger after the mind has regained equilibrium, and which the mind can't control. We can consciously use yogic practices to shorten that lag time and bring the body and mind back into harmony with each other.
Discover how the autonomic nervous system works, assess your autonomic patterns, and learn a variety of practices from the Integral Yoga tradition which are effective in harmonizing this system, including postures, breathing practices, deep relaxation, and meditation.
Heal autonomic nervous system dysregulation as you:
Learn how various Yoga practices influence the autonomic nervous system
Discover how the latest findings in neuroscience confirm the value of yogic practices
Become familiar with the basic brain structures and learn to regulate the brain's trauma center
Bring greater awareness to bodily sensation
Experience a guided chair Yoga sequence, including warm-ups and trauma-informed postures
Calm symptoms of trauma, anxiety, and depression with yogic breathing techniques
Take home scripts and practices to continue experiencing the benefits of a nervous-system informed, trauma-sensitive approach to Yoga
Balance your nervous system, increase your self-mastery, and develop greater present-moment awareness during this weekend of learning.
Included in this program are the basics of the autonomic nervous system and how it becomes dysregulated, evidence-informed elements of Integral Yoga which rebalance the system, and trauma-sensitive Yoga practices which can be practiced at home for maintaining nervous system health.
Didactic and experiential, this program will focus on teaching skills which can be practiced in any situation to create an immediate effect.
While it may be a helpful adjunct, this introductory weekend is not a treatment for health conditions. If you are having disabling symptoms, please consult your medical professional before registering.
Course Information
Prerequisites
None. This workshop is suitable for Yoga teachers, Yoga students, or anyone who has an interest in maintaining optimal health and reducing the symptoms of psychological trauma, anxiety, and depression.
Continuing Education Opportunities
Yoga Alliance (YA):  Approximately 7 contact hours
Integral Yoga Teachers Association (IYTA) can provide you a CE certificate of your program's total contact hours. For more information, email [email protected]
Testimonials
This course was life changing, both personally and professionally. — Melissa Bickford, LMFT

I have been using a lot of your techniques everyday. Clients feel an immediate relief. I appreciate all your wisdom and your teachings. — Pushpa Autrey, Psychotherapist

In this course I was awakened to the real meaning of Yoga, which previously I thought of as just an exercise. I am also grateful for learning the chair yoga and the different scripts on how to incorporate breathing and meditation techniques in a clinical setting. I feel that while I am not a psychologist, these practices will be very useful in public health settings among people with a variety of diseases. — Marion McNabb, M.A., Public Health; Ph.D. Candidate
Presenter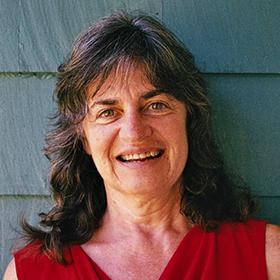 Joann Lutz, MSW, LICSW, E-RYT, C-IAYT
Joann is an experienced, certified Integral Yoga® teacher and a certified Yoga and Ayurvedic Yoga therapist. She is also a licensed independent clinical social worker. For the past six years, Joann has traveled internationally to universities, conferences, hospitals, ashrams, and Yoga centers to train Yoga and mental health professionals on bringing nervous-system informed, trauma-sensitive Yoga into their work. Her CEU course, "Bringing Yoga into Social Work Practice," was published by the National Association of Social Workers–MA Chapter in 2014, and is available for purchase. Joann is a trainer for PESI Inc., a national organization which presents continuing education programs for…
Learn more about Joann Lutz, MSW, LICSW, E-RYT, C-IAYT