Curb Your Cravings: Overcoming Emotional Eating and Compulsive Behaviors
with Amrita Sandra McLanahan, M.D. and Sampada Desai, M.A., LPC, E-RYT 500, CLYL, CLYT
December 7 - 9, 2018
Comfort foods can be discomforting in the long run. Yoga provides fresh perspectives and many useful tools to help in developing and maintaining optimum lifestyle choices.
Learn the skills to protect yourself from the toxic effects of emotional overeating and other addictive behaviors during this weekend workshop. Pertinent information about the causes and symptoms of addictive behaviors such as emotional eating, excessive shopping, hoarding, emotional and serial affairs, sexual addiction, to name a few, will be presented.
Packed with experiential, mindful exercises, you will learn ways to resist impulses, increase self-control, improve decision making, and harness personal accountability. Specifically, you will learn effective cognitive and behavioral tools, guided imagery, gentle Yoga postures, deep breathing practices, and meditation to calm cravings and dismantle addictive thinking and behaviors.
Understand the reasons why emotional eating and other addictions develop
Identify some of the common emotional needs that people attempt to fill with their addictions
Recognize both cultural and physiological obstacles to overcoming emotional overeating and other addictions
Learn several experiential techniques to bring about positive change
Included in this workshop will be great recipes and blissful wellness foods that can replace less healing options.
You will leave informed, inspired, and motivated to start your journey to wellness.
Continuing Education Opportunities
Yoga Alliance (YA): Approximately 7 contact hours
Integral Yoga Teachers Association (IYTA) can provide you a CE certificate of your program's total contact hours. For more information, email 

[email protected]

.
Testimonials
[Dr. Amrita is] my favorite presenter. Wow! She is so full of knowledge and understanding. I could listen to her for hours and hours! Her sense of humor is a bonus! — Gigi

Dr. Amrita McLanahan [has a] great sense of humor and the capacity to marry science to theory. — Crystal Fenwick

Sam Desai is an awesome teacher—compassionate, wise, and very, very fun! I've taken many self-growth classes and have taught my own (as a health and life coach + psychotherapist) and I can honestly say that Sam's class is one of my favorite experiences! — Karen Schachfer

Sam is very knowledgeable and experienced and she teaches with great warmth. — JoAnn Whiteley
Presenters
Amrita Sandra McLanahan, M.D.
Dr. McLanahan is a graduate with high honors of Swarthmore College, and she has an M.D. degree from Wayne University and a family practice specialty from the University of Massachusetts. For twenty years, she served as director of stress management for Dr. Dean Ornish's research, using Yoga and lifestyle changes to reverse heart disease and cancer. She now practices integrative medicine at Yogaville. Dr. McLanahan has made multiple study trips to India and Asia, where she visited centers that use Yoga and other natural means to prevent and treat disease. She is the co-author of the book, Surgery and Its Alternatives…
Learn more about Amrita Sandra McLanahan, M.D.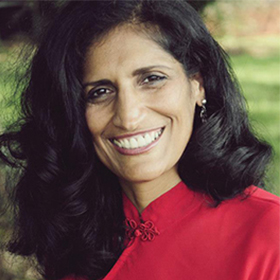 Sampada Desai, M.A., LPC, E-RYT 500, CLYL, CLYT
Sam is a licensed professional counselor with training in clinical psychology and 30 years of psychotherapeutic experience. Additionally, she is trained as a certified laughter leader and teacher trainer. She currently works as a psychotherapist at Centra Health in Lynchburg, Virginia, and maintains a private practice at her agency, Desai Counseling and Yoga. An experienced and compassionate Yoga teacher, she routinely teaches Yoga at her studio, local colleges, and other community organizations. A gifted and engaging speaker, Sam brings to her workshops a unique blend of Western psychology and Eastern mindfulness practices including Yoga, meditation, deep relaxation, healing imagery, conscious breathing,…
Learn more about Sampada Desai, M.A., LPC, E-RYT 500, CLYL, CLYT