Radiant Living: Kickstart to a Healthy Lifestyle
with Amrita Sandra McLanahan, M.D. and Lalitha Stone
August 31 - September 3, 2018
Spend your Labor Day wisely—invest in your health and experience the joy that sparkles from the inside out. Relax, renew, and recharge as you dive deeply into the aspects of Yoga and a healthy lifestyle that can be applied in daily life to dramatically improve your sense of well-being.
Learn how to develop a healthy lifestyle through:
Yoga postures and breathing
Optimal nutrition and the best diet for you
Mindfulness and meditation in action
Movement and exercise
Ayurvedic and Chinese medical approaches
During your stay, relax with practices to reduce stress and increase the capacity to have fun. Explore the benefits of natural tools such as fasting, cleansing, aromatherapy, massage, and other healing modalities for personal rejuvenation.
Using the Raja Yoga approach, discover how emotions affect health and how to maintain a joyful mind in the context of the spiritual foundations of living. Establish emotional wellbeing and learn skillful attitudes for interacting with different types of people using the "Four Locks and Keys" of Raja Yoga.
This workshop also offers the opportunity to address your own personal health issues, including heart disease, high blood pressure, arthritis, diabetes, high cholesterol, weight loss, and more.
Enjoy the added benefit of staying at the Lotus Conference Center (LCC) during the program. Overlooking the Light of Truth Universal Shrine (LOTUS), the beautiful James River, and the glorious Blue Ridge Mountains, the LCC is the perfect place to recharge for the fall.
Testimonials
This program was a wonderful treat for myself—full of new learnings about health and the yogic lifestyle. I feel well prepared to use what I've learned and [I have] practical tips for taking it back to my everyday life. Thank you so much! — Sara H. Dillman

[The program offered a] good balance of talk and activity. Excellent presenters.

We wanted to make more healthy choices at this stage of our lives. [The program] was extremely informative and life-changing.

I like that there was both the spiritual and physical side to health [in this workshop].

— Past Participants
Presenters
Amrita Sandra McLanahan, M.D.
Dr. McLanahan is a graduate with high honors of Swarthmore College, and she has an M.D. degree from Wayne University and a family practice specialty from the University of Massachusetts. For twenty years, she served as director of stress management for Dr. Dean Ornish's research, using Yoga and lifestyle changes to reverse heart disease and cancer. She now practices integrative medicine at Yogaville. Dr. McLanahan has made multiple study trips to India and Asia, where she visited centers that use Yoga and other natural means to prevent and treat disease. She is the co-author of the book, Surgery and Its Alternatives…
Learn more about Amrita Sandra McLanahan, M.D.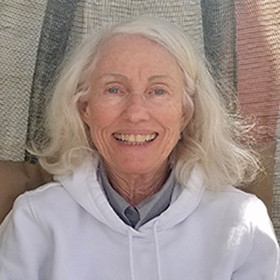 Lalitha Stone
Lalitha has been an instructor of Integral Yoga since 1970 and has twenty-two years of clinical health experience as a Licensed Doctor of Oriental Medicine and National Board Certified Acupuncturist. Recently retired from a private practice that focused on family health and pain relief, Lalitha still continues to teach movement, pranayama, concentration, art, and other skills for personal transformation of mind, body, and spirit.
Learn more about Lalitha Stone