Yin Yoga Training – Module 1: Taoism, Anatomy, and Sequencing
with Biff Mithoefer, E-RYT 500
October 28 - November 2, 2018
Discover how the ancient practice of Yin Yoga can bring balance to your physical, energetic, and emotional bodies during this six-day training. Learn how to lead a Yin Yoga class and incorporate Yin postures and philosophy into any Yoga practice.
Guided by Biff Mithoefer, author of The Yin Yoga Kit, you will:
Expand your knowledge of Taoist philosophy
Explore how to affect the movement of prana in the body with Yin Yoga
Practice non-striving in your teaching and your life
Develop a deeper understanding of anatomy and your own natural anatomical patterns
Sequence a Yin Yoga class
Hold a safe, sacred space for practice
This training is open to all who wish to deepen their practice by incorporating Yin Yoga.
If you can't stay for the week-long training, join Biff for the weekend workshop, Introduction to Yin Yoga. 
Training Information
Prerequisites
None.
Continuing Education Opportunities
Yoga Alliance (YA):  Approximately 44 contact hours
Integral Yoga Teachers Association (IYTA) can provide you a CE certificate of your program's total contact hours. For more information, email [email protected]
Testimonials
I have had the best experience of any past teacher trainings! I feel I have learned to teach with a softer, more lenient style, and the Ashram opened my heart and mind. I had a transformation. I will return and advise my Yoga teachers to attend! — Carol Selei

Not sure? "Leap and you'll find the net"—a Zen saying. This will be the best net you ever landed in. One of the best, most inspiring teachers I've ever experienced. — Amor McShaw

Biff is a Yin Yoga master. He knows how to share the knowledge without overwhelming you. He has a sense of humor, but incredible depth at the same time. — Anjali Davidson

This was a revelation for me. Biff was insightful and knowledgeable, and his team made this training a very special experience. — Noona Ayrei

What a wonderful experience! Biff, Jen, and Prema helped me take my personal practice to a new place and feel more confident sharing with others. — Kristen Wrighti
Presenter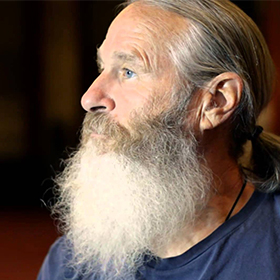 Biff Mithoefer, E-RYT 500
Biff teaches Yin Yoga throughout the US and internationally. He is the author of The Yin Yoga Kit, coauthor of The Therapeutic Yoga Kit, and a founder-director of the Jamste Sponsorship Program for the support of Tibetan refugee children. He is an E-RYT 500 Yoga Alliance registered teacher and has trained and taught extensively with Don and Amba Stapleton, and has studied Yin Yoga and anatomy with Paul Grilley. Biff has studied shamanism with teachers of the Shapibo tradition of Eastern Peru and is a student of cross-cultural shamanism, as taught by Angeles Arrien. See more at biffmithoeferyoga.com
Learn more about Biff Mithoefer, E-RYT 500