The Power of Touch: The Art of Asana Assists
with Giselle Mari, E-RYT 500, C-IAYT, YACEP
October 18 - 21, 2018
One of the quickest ways to understand the mechanics of an asana (physical posture), its depth and beauty, is through touch. Being able to offer assists to Yoga practitioners not only enriches their experience but also provides another effective and potent tool for a teacher to communicate alignments and refinements of an asana practice.
In this asana assists workshop, we will work with partners to:
Investigate some of the more common asana assists and how to translate them to more complex asanas
Observe form, breath, alignment, and energetics of asanas
Learn to provide all levels of practitioners with safe assists that support and deepen their experience and understanding of the asana
Explore the imperative of preserving our bodies through leveraging, bandhas (locks), breath, and our connection to the earth
There will be a comprehensive lecture to establish the essentials around effective assists which will then inform the remainder of this hands-on, experiential workshop.
This workshop is ideal for teachers and serious students who want to deepen their knowledge of asana assists.
We will conduct a full asana practice with meditation prior to each day of coursework.
Training Information
Prerequisites
200-hour Yoga teacher certification.
Continuing Education Opportunities
Yoga Alliance (YA):  Approximately 11 contact hours
Integral Yoga Teachers Association (IYTA) can provide you a CE certificate of your program's total contact hours. For more information, email [email protected]
Testimonials
I have been taking Yoga classes regularly for 20 years, and I consider Giselle to be in my short list of best teachers. And she is definitely the best Yoga teacher for adjustments.— E. Salinger

Giselle is an ideal teacher, technically very skilled, steeped in the essence of Yoga, as well as the form, and FUN. Her classes are simultaneously rigorous and joyful—creating stability and openness in the body, mind, and heart. — A. Saltzman, M.D.

Giselle Mari blends deep respect and lineage with moves that make you go, "Mmmmm!" Her funky approach fused with intelligence and years of teaching is rare and absolutely delicious. — K. BUDIG, International Yoga Teacher and Author
Presenter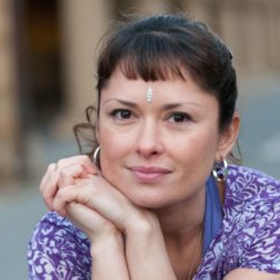 Giselle Mari, E-RYT 500, C-IAYT, YACEP
Giselle's introduction to Yoga in the early 90's was a natural progression from her gymnastics/dance background, her passion for music, and her childhood; she was raised by a bohemian flamenco dancer. Today all of these influence her style and approach to teaching and to life. An E-RYT 500 and YACEP, Giselle flavors her classes with spunk, grit, and spirit. Her light-hearted but comprehensive teaching style weaves yogic philosophy, Sanskrit, anatomy, skillful hands-on assists, funky, eclectic music, and unabashed authenticity into her classes. Her offerings are not only designed to make you move, sweat, and reflect, but also to empower fearless…
Learn more about Giselle Mari, E-RYT 500, C-IAYT, YACEP