Kama Shakti: The Path of Desire and Unbridled Purpose
with Katie Silcox
September 7 - 9, 2018
"If there is ONE Yoga workshop that I have seen alter people's lives, in the quickest way imaginable, it's this one!"—Katie Silcox
Yoga is much more than physical poses. It is an ancient system that scientifically enables you to unravel the limitations and obstacles that are getting in the way of your deepest purpose and fulfillment. Come learn how to more fully embody who you are and who you are meant to become during this workshop designed to help you explore the path of desire as a means to fulfill your purpose.
This event is available for anyone who is ready to uncover their soul's purpose and feel more connected to the aliveness and joy that is possible in this lifetime.
In this workshop, there will be three main sessions:
1. Unlocking and Unblocking
This session will provide an overview of our weekend, including the key philosophies and elements of the Tantric worldview. We will do a deep asana, pranayama, and meditation practice for unblocking and unlocking the first layer of energetic and physical holding patterns—the obstacles are keeping us from our true self—a self that feels infused with the SACRED!
2. The Path of Desire: Fulfilling Your Deep Purpose
According to the Yoga tradition, our soul is fueled by four purusharthas, or four driving desires.
In this workshop, you will systematically explore how to better tap into the fulfillment of these longings in your own life.
Dharma: the desire for purpose—to truly know who you are meant to be
Artha: the desire for health, security, and finances—the ability to experience abundance and to prosper in this world
Kama: the desire for deep pleasures like intimacy, sensuality, and love
Moksha: the desire for spiritual fulfillment, fearlessness, and enduring freedom
3. The Missing Link to Your Life's Fulfillment
The journey of learning how to fulfill the four desires is remiss without one special element. Come find out the missing link to living a purposeful life! Through these beautiful yogic "secrets," you will leave this session with deeper calm and a clearer vision for your future. We will also deepen our knowledge of our life's purpose, igniting the power of our resolve, dismantling the patterns that sabotage our dreams, and deepening our ability to tap into the unwavering calm that is our inner teacher.
All levels welcome. Workshop includes asana and lecture.
Continuing Education Opportunities
Yoga Alliance (YA): Approximately 7 contact hours
Integral Yoga Teachers Association (IYTA) can provide you a CE certificate of your program's total contact hours. For more information, email 

[email protected]

.
Testimonials
Katie has the rare gift of being able to pierce to the heart of a teaching and express it in a way that is not only clear and practical, but also dripping with aliveness, humor, and pure love. Katie is a walking, dancing, radiant embodiment of what she preaches. She is an Ayurvedic alchemist, a transformer of lives, and an awakener of magic. I am so grateful she has shown up in my life. — Seren Rubens

I appreciate and adore Katie's ability to translate and provide the teachings in an accessible and digestible way. — Kim Garrison Burriss, Psychotherapist

Words don't do justice to describe my utmost gratitude in finding Katie. Her ability to share so intimately and truthfully pulses through my veins and straight to my heart… and with such potent and beautiful language, the teachings become like dew drops on my parched brain. — Taylor Rivers

Katie Silcox is fierce compassion embodied. She is simultaneously a sharp sword (her word, her wit, her clear guidance), and a soft lap (her humility, humanity and seemingly boundless love). Through her, I have learned to let go and become the medicine I am seeking. — Catherine Petru
Presenter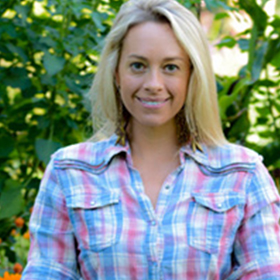 Katie Silcox
Katie is the author of the New York Times best-selling book, Healthy, Happy, Sexy: Ayurveda Wisdom for Modern Women. She is also an internationally-recognized Yoga teacher, Ayurvedic practitioner, writer, and inspirer of hearts and minds. She is renowned for her depth of study, her ability to present the complexities of Yoga's ancient wisdom in a practical, life-affirming manner, as well as her unique capacity to distill the teachings of Yoga with southern-belle humor and grace.  Her signature teaching style blends classical Yoga, vinyasa-based asana, and life-changing Tantric/Ayurvedic philosophy. Katie was named one of San Francisco's Best Yoga Teachers by Common…
Learn more about Katie Silcox