Soul Food: Nurture Your Nature
with Marni Sclaroff, E-RYT 500, MAT
June 29 - July 1, 2018
Your soul is your essence, your nature, your wisdom, and the foundation of who you are. Modern life and culture often pull us away from the soul and leave us feeling tired and disconnected from our true knowing.
Living in relationship with soul awakens us to our inherent connection with all that is. It gives us access to our intuition, vitality, creativity, and imaginative wisdom. This way of "coming home" to ourselves truly inspires our lives and uplifts our connections.
This will be a weekend of feeding the soul through inspired and heart-centered asana practices, storytelling, guided meditation, and group discussion.  You will leave feeling more grounded and in tune with your soul purpose for this life.
Nourish yourself with soul food:
Learn alignment-based Yoga asana to more deeply and easefully inhabit your body
Listen to stories of archetypes from the Yoga tradition to illuminate the ways of communicating with your soul
Discover simple and profound meditation practices that you can use daily to stay inspired and rooted in wisdom
Testimonials
Marni is my teacher, so I came [to the program] for her and was so pleasantly surprised with the Ashram experience.

I am a regular student of Marni. [The program] was everything I expected and more!

I love Marni!

— Past Participants
Presenter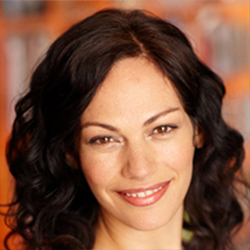 Marni Sclaroff, E-RYT 500, MAT
Marni is a celebrated Yoga teacher with over twenty years of experience in the healing arts. She leads workshops, retreats, mentoring programs, and teacher trainings throughout the US and abroad. She is also a writer and speaker on the transformative power of living Yoga and the healing work of anchoring the heart in the soul. She came to Yoga after searching for a way to heal from her many years of suffering from depression and disordered eating. After attending her first Yoga class in 1996, she knew that she had come home. Through the practices of Yoga, her life began to…
Learn more about Marni Sclaroff, E-RYT 500, MAT