Kid's Yoga Program
with Nitya Griffith, E-RYT 200, CRYT
May 25 - 28, 2018
Bring your children with you this weekend!
This is a childcare program for guests who come to visit with children ages 5–11!
While you enjoy your program, you can feel confident that the kids will be well looked after by our experienced staff and entertained through a variety of fun activities. Arts and crafts, music, dance, drama, hiking, and games will keep them busy and laughing throughout the weekend. In addition, they'll learn about ashram life, Integral Yoga, and Sri Swami Satchidananda.
Schedule
Friday
4:00–7:00 pm Friday Afternoon Registration
6:00 pm Connect with families and meet in Multi-Purpose Room of Sivananda Hall
6:30–7:30 Dinner
7:30–9:00 pm Team Building activities, Hatha Yoga, deep relaxation, and chanting
Saturday
Morning
8–9:45 am Breakfast
9:30 Yoga with Nitya Hatha class, meditation, deep relaxation, inspirational story, and chanting
10:30 Making musical instruments to play during evening Satsang kirtan
11:00 Free Time
11:30 Kailash puja
12:45–2:00 Lunch (with parents 12:45–2 pm)
Afternoon
2:00 Hiking to LOTUS
3:30 Multi-Purpose Room of Sivananda Hall for Yoga Nidra, meditation, chanting with homemade instruments and Love-Lanterns, reading: Child's Journey into Yoga, and activity: Humming Bee Hive AUM
4:30 Free Time
Evening
5:30 Dinner and Evening Krishna Das Program (parents have the kids from 5:30 through evening Satsang)
Sunday
Morning
8:00–9:45 am
9:30 Yoga with Nitya Hatha class, meditation, deep relaxation, chanting, inspirational story time, coloring, and free time
11:00 Hiking
12:00 pm Free time: games, legos, coloring, playground
12:45–2:00 Lunch (with parents 12:45–2 pm)
Afternoon
2 Drive to LOTUS, swim at the lake (weather permitting) or walking meditation
4:30 Reading: In My Heart; a Book of Feelings
4:45 Crafting Love-Lanterns with decoupage
5:15 Free Time: games, legos, coloring, playground
6:30–7:30 Dinner (with parents)
Evening
7:45 Reading: Beyond Words, meditation with the sound of Om, chanting, deep relaxation, and Partner Yoga into Breathing Snake
8:45 Free Time (LOTUS is lit up)
9:30 Back to Sivananda Hall for parents to pick up kids
Monday
Morning
8:00–9:45 am Breakfast
9:30 Yoga with Nitya Hatha class, meditation, Yoga Nidra, chanting, and reading: Beyond Words
10:30 Group Shape Shifting activity
11:00 Free Time
12:00 pm Laugha Yoga
12:45–2:00Lunch
Presenter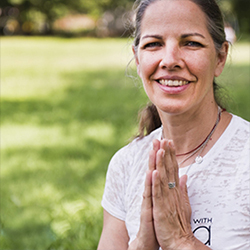 Nitya Griffith, E-RYT 200, CRYT
Nitya, the founder of Nitya Living™, has been an Integral Yoga teacher since 2005. She offers creative children's Yoga programs with asanas, meditation, mindfulness practices, and breathing practices through storytelling and original songs. Nitya has published the Yoga with Nitya Kid's Yoga DVD; the Satchidananda Ashram–Yogaville Coloring Book: A Child's Journey into Yoga; Yoga with Nitya Cookbook: Seasonal, Local, Vegetarian Meals for a Healthy Family; and her latest Musings from Mat: Inspirations and Poetry. See more at nityaliving.com
Learn more about Nitya Griffith, E-RYT 200, CRYT