Navigating Change: Managing Stress Through Life's Transitions
with Rev. Devaja Ciccolella, RYT 500, IYM
January 19 - 21, 2018
The constant and unexpected changes in life may seem inevitable and often feel overwhelming. The economy fluctuates, your career has ups and downs, and important family decisions often need to be made quickly.
You can transition through challenges with balance. This workshop uncovers practices that will help you navigate life changes gracefully—you'll leave with more options than you thought possible. Stress can be the impetus to finding and mastering the vast power of your inner being.
Join us for a workshop to:
Explore ancient Yoga wisdom and practices to help manage life's stressors
Practice postures (asanas) and breathwork (pranayama) to cultivate a healthier body and balanced energy
Develop clearer understanding and focus with meditation techniques
Promote creativity and joy in your life
Gain an understanding of the power of simplicity in Yoga philosophy
Discover how Yoga can enable you to peacefully navigate through life's transitions
This workshop is for both beginners and experienced students who seek to develop mastery over the challenges of daily life.
Testimonials
Devaja brought a wonderful dose of humor to the wisdom of his workshop. I leave feeling a renewed sense of hope to going back to caregiving and I look forward to my next visit to Yogaville. — Karen Hines

Devaja offered clear, simple ways to build a practice and just touch in with Self. He emphasized accessibility and tips for everyday life for everyday people. His teachings were punctuated with great humor and stories from his life. The weekend left me restored, filled up, and eager to come back to Yogaville. — Kirsten Krueger

I think [Devaja] reached everyone in the class regardless of experience. — Past Participant
Teacher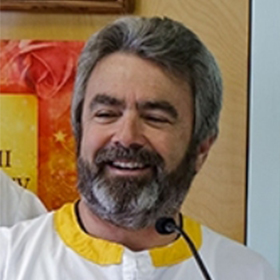 Rev. Devaja Ciccolella, RYT 500, IYM
Rev. Devaja had a successful career as an electrical engineer and computer systems engineer. He also was involved in Emergency Response (EMS, Industrial Fire and Rescue) for over twenty years. He was introduced to Integral Yoga in 2001 and became a Yoga teacher in 2003. He now teaches Hatha Yoga, Raja Yoga, and Stress Management. In 2011 he was ordained as an Integral Yoga Minister and currently directs Yogaville's Seminary Training program.
Learn more about Rev. Devaja Ciccolella, RYT 500, IYM