Go with the Flow
with Trace Sahaja Bonner, E-RYT 500
June 1 - 3, 2018
Through our work, play, creativity, and relationships, we have an opportunity to bring forth our inner light and share that light with others. However, our own limiting and restricting mental patterns may sometimes overshadow that inner light.
Tap into the divine flow of the Universe as it moves through you. Join Trace Sahaja Bonner as she leads a dynamic and liberating weekend of movement for both body and breath.
Learn to go with the flow as you:
Explore how to relieve tension in the body through the flow of asanas (poses) and breath (pranayama)
Immerse yourself in deep inquiry to learn to connect with the flow of what is
Blend prayerful intention and breath during mindful Vinyasa flow practices
Practice pranayama to understand how it helps to strengthen your physical body and connect you to your True Self
Find freedom from habitual mental patterns that create emotional suffering through yogic practices of gentle flow, pranayama, and meditation
Trace Sahaja's light-hearted approach offers an inspirational experience to flow, breathe, and allow your Inner Goodness to shine forth in your everyday life.
Testimonials
Trace is very down-to-Earth, knowledgeable, and inspiring at the same time. — Tracy Strucker

Trace has a refreshing and inspiring balance between being "real" and relatable, and also reflecting and articulating what the spiritual teachings are about. — Spencer Snakard

In this peaceful, supportive environment, you'll find inner peace and energy. Trace will keep you laughing through tough poses. — Kathy Kondes
Presenter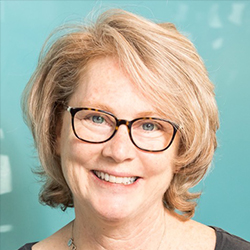 Trace Sahaja Bonner, E-RYT 500
Trace Sahaja is the founder/director of Holy Cow Yoga Center, where she's served for over 20 years. She began her practice over 25 years ago. Her teaching style has evolved to incorporate various Hatha practices, her primary teacher is Sri Swami Satchidananda. Over the last 20 years, Trace Sahaja has not only directed a vibrant Yoga center, Holy Cow Yoga Center but also lead 200 and 500-hour teacher trainings, guided group tours to India, released a DVD Sahaja Vinyasa and wrote various online articles on Yoga. She continues to take workshops with a host of contemporary teachers and deepen her personal understanding of…
Learn more about Trace Sahaja Bonner, E-RYT 500