Awakening the Sacred Body
with John Jackson
June 8 - 10, 2018
In the Tibetan tradition, the body is seen as a doorway that contains the pathway to enlightenment. Within the physical body lies a sacred energetic system of channels, chakras (energy centers), and energies that affect our physical, mental, and emotional well-being.
Discover Tibetan practices for awakening the sacred body during this experiential workshop.
During this weekend, you will:
Practice the simple methods known as the Nine Breathings of Purification and Tsa Lung (winds in the channels)

Use the breath and slow, easy movements to release the old patterns held within the body and encourage the healthy flow of energy

Learn to positively shift your mental or physical health in only ten or fifteen minutes

Explore mental exercises to practice throughout the day to help you be more calm, centered, and joyful
If you enjoy Yoga, this workshop is a wonderful way to deepen your meditative experience and awaken to the sacred presence within your own body.
Testimonials
It was with John Jackson that I had my first contact with the Tsa Lung practices of the Tibetan tradition! His teachings were simple but very profound on a personal level! It was a magnificent experience to attend those teachings and to feel how John passed on this millennial knowledge with thoughtfulness and a lot of inner dedication! John helped me create one of the most powerful daily practices I have ever had access to! I will be eternally grateful! — Nuno Rosa, Portugal

I thoroughly enjoyed John Jackson's workshop. It helped me to integrate gentle movement into my meditation practice. John's simple and precise instructions guided me through healing my body, mind, and heart. His insights into ancient meditation practices have informed my training as an MBSR teacher. — Máire O'Higgins, Ireland
Presenter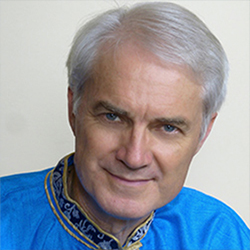 John Jackson
John has been practicing meditation for over 40 years, from pranayama to Tibetan dzogchen. During his studies and explorations he has traveled on pilgrimages around the world, spent lengthy periods of time in retreat at monasteries in Nepal and India, and made pilgrimage to the most sacred mountain of Tibet, Mt. Kailash. Over the past 25 years John has developed close relationships with and received private instruction from His Holiness Lungtog Tenpai Nyima and Yongdzin Tenzin Namdak, the two most senior teachers of the Tibetan Bön lineage, and Tenzin Wangyal Rinpoche, the most senior Bön master in the West. He has…
Learn more about John Jackson