Sacred Sounds: Healing Sounds
with Jonathan Goldman and Andi Goldman, LPC, M.A.
April 20 - 22, 2018
Discover the secrets of sound healing with the internationally acclaimed teacher, author, and chant master Jonathan Goldman, who teams with his wife, holistic psychotherapist Andi Goldman, for this special weekend. Explore the scientific and spiritual basis of using sound for healing and transformation and find out how your own self-created sounds can enhance your health and wellness. During this program, you will have the opportunity to experience a multimedia presentation as well as an experiential workshop.
The presentation includes group exercises, sound healing techniques, extraordinary visual images, award-winning healing music and cutting-edge scientific and spiritual information. Discover and learn about the Divine Name—a universal sound that has the ability to resonate both the physical body and subtle energy fields of anyone who intones it, irrespective of religion, tradition, or belief. It has the power to issue in a new era of human consciousness, uniting us in healing, peace, and oneness.
Learn how sound can:
Energize and balance your brain
Increase your immune system
Tune your nervous system
Resonate our DNA and cellular structure
Enhance relaxation
Reduce stress
Heighten your consciousness
Through teachings, meditations, and sonic exercises, sound healing pioneers Jonathan and Andi Goldman will awaken the joyous and extraordinary healing power of sound in us all!
More Information
The experiential workshop component of this program begins with exploring the power of breath and tone. We then initiate one of the most powerful sounds through working with the hum and bhramari pranayama.
This is followed by experiencing the exercise of vowels as mantras, which has a powerful resonance that shifts your chakras (energy centers of the body) to balance and align them for health, harmony, and enhanced meditation. Next, you'll be introduced to the fundamentals of vocal harmonics—learning to create two or more notes simultaneously and experience the resultant transformative effects, including stimulation of the brain, resonation of the physical body, and enhancement of our ability to perceive reality.
The workshop is a step-by-step process of vibratory initiation and activation. It culminates with learning to intone the Divine Name—a universal sound for healing, prayer, meditation, and transformation. The Divine Name has the ability to create a deep and profound connection between ourselves and the Divine. In addition, as an ultimate form of prayer, this extraordinary sound has the ability to bring healing and harmony to ourselves and the planet.
This workshop includes:
Vowels as mantras: How to use the power of self-created sacred sounds to resonate your chakras
Fundamentals of breath and toning: The importance of breath in resonating our body, brain, and etheric fields and in opening the pathways that allow sound to be expressed comfortably
Brahmari Pranayama: A powerful technique of sonic Yoga for balance, health, and harmony
Fundamentals of vocal harmonics: How to create and two or more notes simultaneously and experience the resultant transformative effects
Sounding the Divine Name: How to intone and experience the power of the universal sound for healing, prayer, meditation, and transformation
Through the use of Shabd Yoga Techniques, chakra toning, and vocal harmonics, the sonic energies of the Divine Name will be transmitted. This extraordinary sound invokes divine energy, initiates transdimensional communication, and creates frequency shifts that align imbalances.
Testimonials
One of the brightest, loveliest, and most precious experiences enriching my consciousness, service, and ability to be who I am. Place, space, people, and guidance from above, natural and nurturing pristine environment make this time and experience even more wonderful. OM! — Yarema Rybitakyi

I feel like to be fine-tuned to the vibration of sound when I hear from within and from the outside, have experience of enriching my voice expression. Very awesome! — Jeremy

I came to learn more about the healing power of sound. I learned much more than I expected and had an amazing experience. — Past Participant
Presenter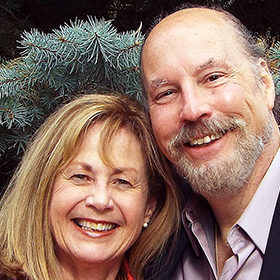 Jonathan Goldman and Andi Goldman, LPC, M.A.
Jonathan is an international authority on sound healing and a pioneer in the field of harmonics. He has worked with masters of sound from both scientific and spiritual traditions and has been empowered by the Chant Master of the Dalai Lama's Drepung Loseling Monastery to teach Tibetan Overtone Chanting. Jonathan is author of Healing Sounds: The Power of Harmonics, The 7 Secrets of Sound Healing, Chakra Frequencies: Tantra of Sound (co-authored with his wife Andi), winner of the Visionary Award for "Best Alternative Health Book" of the year, The Divine Name: The Sound That Can Change the World, 2011 Visionary Award…
Learn more about Jonathan Goldman and Andi Goldman, LPC, M.A.