Peaceful Weight Loss Six-Day Retreat
with Brandt Bhanu Passalacqua and Anna Neiman Passalacqua
May 4 - 9, 2018
Join nationally recognized weight-loss facilitator and author of Peaceful Weight Loss Through Yoga, Bhanu Passalacqua, as he introduces you to the concepts and practices that have helped him and his students lose weight and find balance in their lives. This is a gentle, restorative practice that helped its creator and facilitator, Bhanu, lose over 100 pounds. It includes Yoga postures, breathwork, meditation, suggestions for dietary changes, and time for questions.
During this retreat, you'll first immerse yourself in the Peaceful Weight Loss program as you explore easeful, breath-based Hatha Yoga as the foundation for establishing balance. Over these three days, you'll have many opportunities to practice Hatha Yoga, meditation, and eat delicious vegetarian food. Then, you'll have three more days to integrate these practices more deeply and fully experience their benefits so you can go home stronger, lighter, and ready to continue a sustainable healthy lifestyle that will ensure weight loss.
This program is for everyone—no previous Yoga experience is required.
Testimonials
I thought that this program was just going to provide steps for weight loss—but we went much deeper, getting into the actual root of overeating. What I learned surprised me, and has put me on the right track. Learning this was priceless to me. — Past Participant

Brandt and Anna have a very logical and whole life approach to weight loss. You genuinely need to find inner peace and then the weight loss part becomes one of two things; it becomes easier or not as important as you once thought it was. — Jennifer Weigelt

It's a great way to realize how much stress affects our bodies and our costumes. I have never realized that by having my body in stress/panic mode it will decide to retain everything to protect itself from harm. Also, how well I feel after Yoga Nidra is an eye-opener. — Viviana Gonzales

I had previously begun on this path, but Brandt and Anna were wonderful in helping me gain clarity and refine my life and practice. The peace and purpose was perfect for me.—Theresa Merkling

The program gave me tools to address issues related to my weight gain. I feel I'll be able to de-stress and continue my journey to a better, calmer, me. — Anna
Presenters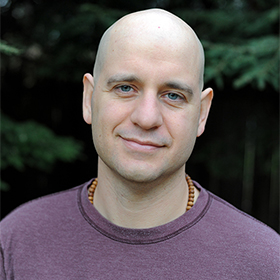 Brandt Bhanu Passalacqua
Brandt Passalacqua is the creator of Breathing Deeply Yoga Therapy and Peaceful Weight Loss™ through Yoga. He has been enjoying Yoga and the healing arts since 2002 after overcoming obesity and a life-threatening autoimmune illness. His personal journey serves as an inspiration to countless others and informs his compassionate, humorous, and down-to-earth teaching style. His practice integrates a background of Yoga Therapy in the tradition of Krishnamacharya and Structural Yoga Therapy, Thai Yoga Massage, Medical Massage, a variety of meditation lineages, and plain-old common sense to help people realize their goals. Brandt spends much of his time working with individuals…
Learn more about Brandt Bhanu Passalacqua
Anna Neiman Passalacqua
Anna Neiman Passalacqua has been working with eating disorders, weight loss, and body image populations for 11 years in private practice and through Peaceful Weight Loss™ and Being at Peace with Food retreats and seminars. She is the co-author of At Home With Peaceful Weight Loss and is the main teacher of Transformation, a 9-month course in Peaceful Weight Loss™. She maintains a private Yoga therapy practice in Northampton, MA, and works with a variety of issues. She is also co-director of the Breathing Deeply Yoga Therapy school.
Learn more about Anna Neiman Passalacqua