Nonviolent Communication for Yogis: Practicing Ahimsa and Compassion
with Bhavani Marcia Miller, E-RYT 500
March 16 - 18, 2018
Ahimsa is the state of the heart where there are no enemies.—Patanjali, Yoga Sutra 2.35
As yogis we are guided by the first two yamas of the Yoga Sutras of Patanjali: nonviolence (ahimsa) and truthfulness (satya). Nonviolent Communication (NVC) is the perfect complement to Yoga that supports us to embody these great vows.
There are specific exercises and practices that we can incorporate into our daily lives to increase the likelihood that we will be able to do so. When we are able to embody nonviolence and truthfulness we can live our lives with more authenticity. We can have important conversations with more ease and honesty—the joyful ones and the challenging ones. We can listen more deeply and be more present and compassionate to ourselves and others. Our curiosity can help us consider what is going on with others—even people we disagree with or for whom we have enemy images.
Presenter Interview
In this course you will learn practical and powerful exercises drawn from Nonviolent Communication and Yoga that will help you:
Bring more clarity to your speech
Speak your truth in a way others will be more likely to receive it
Hear others how they most want to be heard
Make distinctions between judgments and observations
Learn ways we shut others down in conversation and what to do about it
Learn to calm yourself in stressful situations so you can utilize new tools
Be curious about your "enemies"
Make clear requests
Fill yourself up so you can be present to others
Restore yourself after challenging experiences
Experience more freedom in your body
Build skills to have challenging and important conversations
The weekend will include discussion, exercises with partners and small groups, asana (postures) and Restorative Yoga. The whole weekend will be guided by the principle of radical self-acceptance.
Non-violence is not a garment to be put on and off at will. Its seat is in the heart, and it must be an inseparable part of our very being. — Mahatma Gandhi
Testimonials
Bhavani has a vast knowledge base. I was impressed with the amount of technical, spiritual, and experiential wisdom. I love how she shares wisdom on all levels with such gentle loving-kindness. — Joan Briggs

Bhavani is an excellent teacher who encourages you to relax, enjoy Yoga, and laugh at yourself! — Rhonda Dennis
Presenter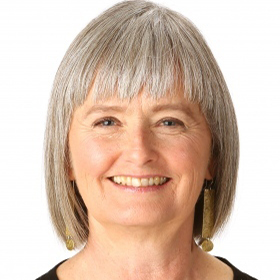 Bhavani Marcia Miller, E-RYT 500
has been teaching Yoga for over 40 years. She has taught all levels and types of students, from new beginners to Yoga teachers, and everyone in between. In 2001 Marcia was one of the founders/owners of Yoga on High where she co-directs the 200- and the 300-hour Hatha Teacher Training Program and is the lead teacher for the Therapeutic Teacher Training Program. Marcia has been studying and practicing Nonviolent Communication for 20 years from Marshall Rosenberg (the founder), Robert Gonzalez, Ike Lasater, and many others. For many years she has been bringing NVC to the Yoga community and Yoga to…
Learn more about Bhavani Marcia Miller, E-RYT 500