Finding Peace in Chaos: A LOTUS Fundraiser Retreat
with Nalanie Chellaram
March 29 - April 2, 2018
Nalanie and Special Guests will guide you through the wisdom of the Yoga Sutras, Bhagavad Gita, and other spiritual texts and mythical stories to help you understand the truth of the Higher Self.
In these troubled times of social, political, and religious upheaval, many are plagued with fear and anxiety.
How do you find peace in an ever-changing world?
How do you get back to that place of faith and trust?
With knowledge of the Spirit comes an understanding of who you truly are. By practicing the great tools that Yoga offers, you too can return to a place of tranquility.
Presenter Interview
During this program, you will focus on utilizing the tools of Yoga to help maintain equanimity of mind so that you can lead an easeful, peaceful, and useful life. You will have the opportunity to explore creative visualization, meditation, and the various paths of Yoga (Raja Yoga, Karma Yoga, Bhakti Yoga, Japa Yoga, and Jnana Yoga).
Discover the tools to help you deal with chaos and find peace in your life.
Special Guests: Swami Karunananda, Swami Gurucharanananda "Mataji", Dr. Amrita Sandra McLanahan, Hope Mell, Amma Kidd, and Anand Roberts.
---
Click here for the ONLINE COURSE option.
You may also contribute to LOTUS Fund by donating here.
---
Recommended reading: The Living Gita by Sri Swami Satchidananda. The book will be helpful during the weekend, but not required. If you have a copy you may bring it with you. You may purchase online or upon arrival at the lobby of Sivananda Hall.
During this program, you'll have the opportunity to attend the Ashram's Easter Sunday Service.
Testimonials
Nalanie brings the teachings of Patanjali and Swami Satchidananda to life. She is skillful, humble, and passionate, teaching from her personal life experience. If you are willing to work to improve yourself to live your life in the best way possible, if you are ready to go on the roller coaster ride of your life, to laugh, to cry, to really look within then follow Nalanie to learn the techniques that can transform your life. — Michele

Nalanie makes Yoga philosophy fun, light, and accessible to all. It is a joy to listen to her inspiring talks and classes. — Luckshmi

Nalanie has the beautiful gift of being able to quicken the transformation of the soul.
She illumines the paths of so many of us and demonstrates through her actions that it is love that truly heals. The gifts she shares are precious and there are no words I can think of to thank her enough. — Jennie M.

Nalanie Chellaram positively transforms people's lives. Individually, as well as in her well attended talks, retreats and programs, she inspires and fulfills each soul. — Karen A.
Teacher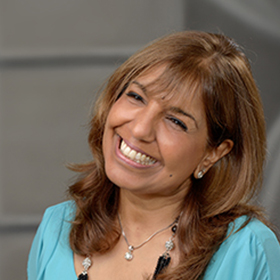 Nalanie Chellaram
Nalanie is a modern spiritual teacher—a true soul doctor dedicated to selfless service. She was born into the distinguished Indian family, the Harilelas. She grew up in the presence of a close family friend, who, unbeknown at the time, was to have a deep and lasting influence in her life. This frequent visitor and friend was Swami Satchidananda, her beloved Guru. In March 2008, Nalanie was recognized for "Services to Humanity" in Her Majesty Queen Elizabeth the second New Year's Honours List. In October she also received a Humanitarian Award from Satchidananda Ashram—Yogaville in Virginia, US. In 2009, Nalanie founded…
Learn more about Nalanie Chellaram