Raja Yoga: Observation, Action, Transformation
with Madhavan Mark Wolz, RYT 500, C-IAYT
December 1 - 3, 2017
Raja Yoga opens the door between awareness and action, leading you to integrate body, mind, and spirit in a way that steadies your course and brings focus to your energy. Raja Yoga (the path of wisdom) is based on the eight limbs of Yoga as outlined by Patanjali in the Yoga Sutras over 2,000 years ago.
In this Raja Yoga workshop, you will learn to use the eight limbs to:
Develop your power of observation and examine the effects of your thoughts and behavior
Deepen your awareness of your inner self, outward projections, and external perceptions
Take action and learn from the impact your actions have on yourself and others
Become more aware of your choices throughout the day
This workshop will enable you to use Yoga as a tool for self-exploration and transformation rather than simply for stress-relief. This workshop will prepare you to explore the eight limbs over the months and years to come—using your own limbs.
Testimonials
Mark is a practiced and generous teacher with an ability to be responsive to each student while creating a sense of solidarity and mutuality among them. Beyond academic, his Raja Yoga class included asanas, pranayama, and meditation. We discussed the foundations of Yoga philosophy and specific ways each of us could live the yamas and niyamas in daily life. I am deeply grateful for this class. — Elizabeth

I took a Raja Yoga course with Mark Wolz. Mark creates a safe place to learn and share the lessons of Yoga while challenging you to grow at the same time. This is certainly a unique gift. I was able to use many of the techniques he taught in my everyday life to help relationships and have more serenity. I especially enjoyed the sharing that we did in class. It was very supportive and fun. — Barbara

Raja Yoga has been a wonderful complement to my spiritual work and a practical method for managing my anxiety and depression. Mark is an amazing teacher. I feel so lucky to have studied Raja Yoga with him 10 years ago and then again this year. — Annabel

I believed I would benefit from the Raja Yoga class after my wife gifted me with a private meditation class with Mark. The Raja Yoga class was great. Not only did I leave the class feeling simultaneously relaxed and invigorated, I looked forward to our next session. Mark has the rare gift of making all the classmates feel special and part of the class. My wife and I still use techniques that Mark taught us. — Phillip
Teacher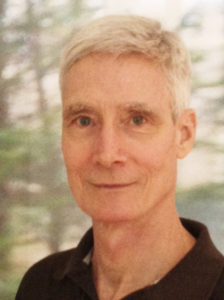 Madhavan Mark Wolz, RYT 500, C-IAYT
Madhavan has been teaching Yoga and meditation for 16 years, with a concentration on therapeutic benefits and everyday applications. He also teaches and practices astrology, with an emphasis on using our charts to reflect on ourselves. Mark is particularly fond of teaching workshops because he finds participants learn better when they are actively engaged. He holds a B.S. in psychology and an M.A. in anthropology and Southeast Asian studies. Mark is committed to cultivating individual and collective responsibility as we reach toward conscious healing for ourselves and the planet. See more at dharmarising.com
Learn more about Madhavan Mark Wolz, RYT 500, C-IAYT