Yoga for Grief and Loss: Strengthening Your Container
with Karla Helbert, LPC, E-RYT 500, YACEP, C-IAYT
July 27 - 30, 2017
How do you carry a grief that seems larger than the world? We carry it in a really strong container.
Grief, loss, and trauma are some of the most difficult experiences imaginable and possible. When you have experienced loss so profound there is no "getting over it," you can learn only how to hold and to carry it.
Join author, psychotherapist, and yogini Karla Helbert for a time of solace and connection in a retreat space of both learning and experience during Yoga for Grief and Loss.
You will:
Engage in movement, meditation, self-inquiry, chanting, journaling, and time with nature
Understand how each branch of Yoga—Jnana, Bhakti, Tantra, Karma, Raja, Hatha, and Japa—helps you to strengthen your container
Learn ways to establish your own personal practice and a path to self-care
Explore how the koshas (layers of being) and chakras (energy centers) are affected by experiences in trauma, grief, and loss.
Together we'll come to more deeply understand how the ancient paths of Yoga can help us bear what grief, as well as life, asks of us.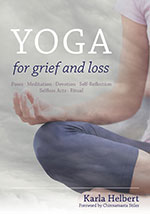 Karla's book, Yoga for Grief and Loss, is available for purchase online at Integral Yoga Distribution by clicking here.
Testimonials
Typically, when we are overwhelmed with grief, words can only go so far in bringing relief and comfort…Karla is presenting something very special to the world and what she has accomplished is awe-inspiring. She has pulled herself up from her own loss, and is thankfully now generously sharing her wisdom. — Swami Asokananda, President Integral Yoga Institute of New York

Practical yet deeply numinous, I recommend Yoga for Grief and Loss highly; not as a means to heal or cure or overcome grief—rather… to be with, turn toward, and grow through grief. — Joanne Cacciatore Ph.D., Professor Arizona State University, Author of Bearing the Unbearable, Founder of The MISS Foundation
Presenter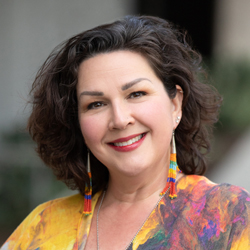 Karla Helbert, LPC, E-RYT 500, YACEP, C-IAYT
Karla is a licensed professional counselor (LPC), Compassionate Bereavement Care® provider, Yoga therapist, and certified Integral Yoga teacher. Her life was irrevocably changed when her son died of a brain tumor in 2006. Karla's award-winning book, Yoga for Grief and Loss, is endorsed by Integral Yoga® leaders and teachers as well as other experts in the fields of both Yoga and loss. The book examines how the paths of Yoga can support us in trauma and grief. Relying on ritual, meditation, creative expression, and the teachings of Yoga, Karla honors the pain and the joy which coexist in all of life.…
Learn more about Karla Helbert, LPC, E-RYT 500, YACEP, C-IAYT