Yoga for Arthritis Teachers Intensive – Level 1
with Steffany Moonaz, MFA, RYT 500, Ph.D. and Mary Veal, E-RYT 500
August 15 - 20, 2017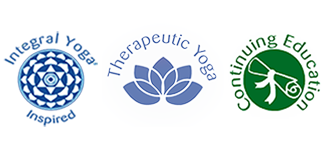 Discover how you can safely and effectively teach evidence-informed Yoga practices with individually tailored modifications to people with arthritis and related conditions in this Yoga for Arthritis Teachers Intensive. Over 20% of US adults are coping with arthritis.  That number has grown 20% in the last 15 years, and it will impact 78 million people by 2040. It is vital that Yoga professionals learn the tools and skills to work with this underserved and growing population.
Discover how you can safely and effectively teach evidence-based Yoga practices with individually tailored modifications to this population. Dr. Steffany Moonaz and Mary Veal have designed a training that combines contemporary scientific rigor, Yoga philosophy, and heart.
This training includes:
Arthritis basics, joint anatomy, and the Yoga for Arthritis protocol
The adaptation of asana for joint limitation and pain
The effect of arthritis on all koshas and the mechanisms for Yoga's impact
Yoga for Arthritis was developed by Dr. Moonaz based on her experience conducting clinical research with interdisciplinary medical teams at Johns Hopkins University and National Institutes of Health
Training Information
Prerequisites
Yoga teachers who have completed a 200-hour Yoga certification program.
Continuing Education Opportunities
Yoga Alliance (YA):  Approximately 34 contact hours
Hours may also contribute to training as a Yoga therapist in the Integral, Triyoga, and Phoenix Rising programs and future continuing education as a certified-IAYT Yoga therapist (please inquire at [email protected] if this applies to you)
Integral Yoga Therapy (future) or Comparable Trainings: Approximately 34 total hours
International Association of Yoga Therapists (IAYT): Approximately 34 total hours
Healthcare and Related Disciplines: Although CMEs are NOT offered, a certificate documenting CE hours may be available for your discipline. Please contact

[email protected]

for details
More Information
Pre-course reading will be e-mailed before the training.
Tuition includes $40 manual.
After completing this Level 1 training, you are qualified to teach the evidence-informed Yoga for Arthritis program that was developed using more than a decade of research by Dr. Steffany Moonaz.
You will be eligible to continue toward certification. In order to ensure the rigor of the program, this process includes mentorship and Level 2 training.
Testimonials
Integral Yoga is a registered school of the Yoga Alliance—a voluntary alliance of organizations and teachers dedicated to uphold the integrity of Yoga—and provides ongoing support for Yoga professionals in the United States. Yogaville was the perfect space for this training.  Comfortable, nutritious, well-staffed, and friendly. — Ben Thacker-Gwaltney

The Yoga for Arthritis Certification Course was beautifully taught and embodied the spirit of Integral Yoga. The students and teachers were knowledgeable, of course, but more important was their good character. They are a dedicated and generous group of spiritual people who love to serve, and spending time with them was a joy. I understand that this course is now included in Integral Yoga's curriculum. I know that took a lot of work to organize, and I want to thank you both. — Lynn Somerstein, RYT, Ph.D.

Teachers
Steffany Moonaz, MFA, RYT 500, Ph.D.
Steffany is a Yoga therapist and researcher specializing in rheumatic diseases. She currently serves as Assistant Director of Academic Research M.S. in Yoga therapy. She received her 200-hour Yoga teacher training at Satchidananda Ashram–Yogaville in 2003 and her 500-hour training from Yama Therapeutics. Steffany spent seven years at Johns Hopkins University, developing and evaluating a Yoga program for individuals with rheumatoid arthritis and osteoarthritis, which has been replicated in collaboration with the National Institutes of Health. She is the founder of Yoga for Arthritis, an organization bringing evidence-informed Yoga programs to people, nationwide, with arthritis, as well as educating Yoga…
Learn more about Steffany Moonaz, MFA, RYT 500, Ph.D.
Mary Veal, E-RYT 500
Mary is a Yoga for Arthritis Certified Instructor and specializes in working with students that have chronic conditions or injuries. Mary is the office manager (O.M.) of Kula Yoga Shala, a donation-based Yoga studio in Jupiter, FL. She obtained her 200-hour certification in Hatha Yoga from Kula Yoga Shala and her 500-hour certification in Anusara. She is experienced in teaching many types of Yoga, including Vinyasa, Yin, Restorative, Chair Yoga, and Yoga Nidra. Her love of all paths of Yoga is evident in her dedicated practice of more than 17 years. This love and respect comes through her teaching as…
Learn more about Mary Veal, E-RYT 500