Yoga for People Over 50
with Bhavani Marcia Miller, E-RYT 500
March 10 - 12, 2017
As you age, you change—and so should your Yoga.
Whether you are a longtime practitioner or a beginner, this workshop will offer you ways to meet your changing body and life, just as you are, in a community of your peers.
Practices will include asanas that respect joints and chronic sore places while safely building strength, balance, suppleness, and stamina. You'll focus on practices that are sustainable for aging bodies with youthful hearts. You'll move all body parts each day and then rest deeply in poses that leave you feeling open, refreshed, and ready for the next adventure.
Using her years of therapeutic Yoga experience, Marcia will show you ways to care for your body, including meditation and breathing practices that bring clarity, attention, and integration. 
Appropriate for people over 50 who want to continue caring for themselves physically, emotionally, and spiritually. You must be able to get on and off the mat (but it need not be graceful!)
Testimonials
I wanted a Yoga introduction geared to someone of a certain age. … The instructor gave 100%. — Judith Maly

Bhavani has a vast knowledge base. I was impressed with the amount of technical and spiritual and experiential wisdom. — Joan Briggs
Presenter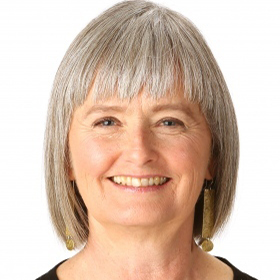 Bhavani Marcia Miller, E-RYT 500
has been teaching Yoga for over 40 years. She has taught all levels and types of students, from new beginners to Yoga teachers, and everyone in between. In 2001 Marcia was one of the founders/owners of Yoga on High where she co-directs the 200- and the 300-hour Hatha Teacher Training Program and is the lead teacher for the Therapeutic Teacher Training Program. Marcia has been studying and practicing Nonviolent Communication for 20 years from Marshall Rosenberg (the founder), Robert Gonzalez, Ike Lasater, and many others. For many years she has been bringing NVC to the Yoga community and Yoga to…
Learn more about Bhavani Marcia Miller, E-RYT 500