Advanced Integral Yoga® Teacher Training
with Swami Asokananda, E-RYT 500 and Letícia Padmasri, ALC, C-IAYT, E-RYT 500, M.A.
July 2 - 23, 2017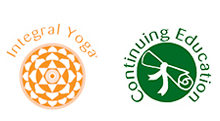 The Advanced Integral Yoga Hatha Teacher Training course enables your Yoga practice and teaching skills to flourish. Expand your teaching skills by learning how to instruct advanced classes and finding ways to take simple, basic asanas to a deeper and more subtle level–this is what truly makes a practice "advanced."
Some of the topics covered in this training are:
More advanced asanas and variations, including inversions and arm balancing poses

Advanced study, theory, and practice of

pranayama

, as well as

bandhas

and

kriya

s

Guidance on how to safely introduce advanced practices

Additional study and immersion in Raja Yoga

Guidance on how to integrate koshas, Patanjali's Ashtanga (Eight Limbs of Yoga), and meditation into your teaching and personal practice
There will be time to share experiences and to address challenges that you may have encountered in teaching or in your personal practice. In Yogaville's peaceful, supportive environment, you will further your own growth by deeply exploring the science of Yoga.
Training Information
Prerequisites
Integral Yoga Intermediate Teacher Training and at least six months of experience teaching at the Intermediate level before applying. We require that all students not trained through Integral Yoga (IY) familiarize themselves with the IY method of teaching Hatha Yoga by taking classes at an IY Institute or from an IY teacher.
Click here to find IY teachers in your area
You may also purchase and practice with the DVDs Yoga with a Master and Intermediate Yoga Class with Swami Asokananda. These DVDs are available at Shakticom.org, the Integral Yoga Multimedia Centre.

Continuing Education
Although we do not yet offer formal Continuing Education Units, the IYTA can provide a CE certificate that documents your attendance and the number of hours your program includes.
Contact hours: Approximately 112

Total training hours: Approximately 180
Teachers
Swami Asokananda, E-RYT 500
Swami Asokananda, a monk since 1975, is one of Integral Yoga's foremost teachers—known for his warmth, intelligence, and good humor. His teaching comes out of his own practice and experience while absorbing the wisdom of his Guru, Sri Swami Satchidananda. While he enjoys sharing the practical wisdom of yogic philosophy (especially the great Indian scripture, the Bhagavad Gita), he also loves his practice of Hatha Yoga. He is one of Yogaville's primary instructors for Intermediate and Advanced Hatha Yoga Teacher Trainings. He presently serves as president of the Integral Yoga Institute in New York City. Before this position, he served…
Learn more about Swami Asokananda, E-RYT 500
Letícia Padmasri, ALC, C-IAYT, E-RYT 500, M.A.
Letícia Padmasri is an Ayurvedic Lifestyle Consultant, a certified Advanced Integral Hatha Yoga teacher, and a certified Raja Yoga teacher. She holds a bachelor's degree in exercise science, a master's degree in education, and has dedicated many years towards the study of exercise physiology. She combines her love for the sciences of Yoga and Ayurveda with her interest in the body's structure and function, helping students of all levels adapt their practices to achieve optimal health and total well-being. In addition to being one of Yogaville's primary teacher trainers, she also offers workshops and seminars in the US and Brazil.…
Learn more about Letícia Padmasri, ALC, C-IAYT, E-RYT 500, M.A.