Couples Retreat: Rekindling Love, Revitalizing Your Relationship
with Revs. Bhagavan and Bhavani Metro
February 16 - 18, 2024
Join the Revs. Bhagavan and Bhavani Metro on Valentine's Day weekend to reignite the spark in your relationship and cultivate emotional intimacy with your beloved. This unique retreat offers an opportunity to deepen the connection with your partner while nurturing openness, fulfillment, and affection.
The heart of this retreat lies in Integral Yoga practices that are thoughtfully curated to nourish a relationship. Through these practices, you will explore techniques and tools that have the power to transform challenges into opportunities for growth and progress. You and your partner will learn how to be more present and engaged with each other, creating a stronger and more vibrant bond.
One of the cornerstones of this retreat is compassionate listening, a skill that will help you not only support each other but also renew open and honest communication. Through the power of communication, overcome obstacles and forge a more profound connection.The spirit of play will be infused throughout the weekend, reminding you to not take life too seriously and to enjoy the journey of love.
Learn and practice:
Meditation at the various shrines throughout Yogaville
Couples Hatha Yoga—no experience necessary
Dancing to cultivate love and playfulness
Setting up your home to reflect a peaceful presence
In addition you'll receive practical applications and guidance on how to enhance your love and commitment to each other. Each session will include dedicated time for questions and discussions, allowing you to absorb the guidance and wisdom offered during this special weekend.
Don't miss this opportunity to strengthen your relationship and embark on a journey of renewed love, deeper connection, and greater intimacy. Join the Revs. Bhagavan and Bhavani Metro for a Valentine's Day weekend that promises to rekindle the flame of love in your hearts. Secure your spot today before availability runs out.
Testimonials
Wow… what a wonderful program! It rejuvenated our relationship. Bhagavan and Bhavani are amazing, inspiring mentors. We have learned so much from the program. We wish the program could be a little longer. — Ami Shah

This was a way to increase our bonding as a husband and wife. We are going home with so much upliftment. — Past Participant

We took this program 3 years ago and now, with a second child, we felt we needed to refresh/reconnect with a repeat. We loved our first experience so much we came back! The real-life stories were so relatable. — Marianne

This workshop teaches couples, young and old, how to lovingly accept each other. The force of the Metros' love is awesome and awe-inspiring. — Richard Pastore
Presenter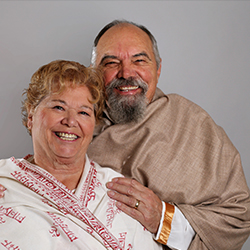 Revs. Bhagavan and Bhavani Metro
Reverends Bhagavan and Bhavani have been devotees of Sri Gurudev Swami Satchidananda since 1974. They moved from their home in Colorado to Satchidananda Ashram–Yogaville East, Connecticut in 1979 to be close to Sri Gurudev and the Integral Yoga sangha and to enroll their children in the Vidyalayam school. In 1980 they moved their family to Satchidananda Ashram–Yogaville, Virginia where they currently reside. Their construction company, New Age Builders, built most of the structures at Yogaville. They are surrounded by a large, loving family composed of 5 generations living within a few miles of their home at Yogaville. Their…
Learn more about Revs. Bhagavan and Bhavani Metro