From Reaction to Forgiveness in A Course in Miracles
with Bharata Wingham, E-RYT 200, CLYT
November 24 - 26, 2023
A Course in Miracles is older than the sun yet newer than a sunrise.
Gather the tools to take yourself from a space of reaction to forgiveness during this workshop covering the teachings of A Course in Miracles. This course shares the tools, understanding and guidance we need to move from every unwanted reaction to the state of true forgiveness, love, and deep inner peace.
Since its publication in 1974 the Course has helped millions of people lead happier and more loving lives. Among its many striking claims is that the true purpose of our life is to fulfill our function of healing in the world, through the simple process of accepting healing for ourselves.
The teachings of A Course in Miracles could be summed up as: "I have a mind. That mind is split. And that mind has a choice to make. Either I can make real the part that is the reactive source of all my suffering or make real the part that is the Source of all my Peace. It is my choice."
A Course in Miracles is a perfect blend of abstract spiritual principles and specific concrete steps to apply in our daily lives. As we apply them they bring transformation to all our relationships and situations. These principles, with application, bring to us and those around us a greater experience of peace, love, and abundance.
Learning and applying forgiveness can bring about these five positive benefits for individuals' overall well-being:
Emotional Healing: Letting go of negative feelings such as anger, resentment, and bitterness can lead to emotional healing and inner peace
Reduced Stress: Holding onto grudges and resentment contributes to chronic stress, forgiving others (and yourself) can lower your stress levels
Improved Relationships: Forgiveness can mend strained relationships by fostering spaces of empathy, understanding, and open communication
Enhanced Mental Health: practicing forgiveness is linked to improved states of mind and reduced symptoms of depression, anxiety, and anger freeing us from haplessness and confusion
Physical Health Benefits: practicing forgiveness is associated with various physical health benefits, such as strengthened immune system and improved cardiovascular health
In this program you will learn:
How to move from painful reactions to true forgiveness in three concise stages while consciously steering clear of the pitfalls of "spiritual bypassing"
How to recognize the common source in all our difficulties and blockages in life which keep us stuck in a fictitious world
Why it is crucial to learn to move beyond mental and emotional blockages in our progress to the goal of Peace
The "Rules of Decision" as taught in A Course in Miracles, that govern all of our choices
Through daily practice and application of the principles of forgiveness you can discover your true identity as a spiritual being, capable of forgiving of yourself and the world around you.
Continuing Education (CE) Opportunities
Testimonials
Bharata is a great teacher and leader. His course was engaging, fun and extremely helpful, providing useful tools/techniques to help me choose love and spirit. He teaches with love in his own unique way, which supports the course materials principles of gratitude, love, acceptance, and communication. — T.J. McPhaul

Authentic, clear message, complex material presented in a digestible and enjoyable way. The course gave me hope that there is a way to come out of the box /the mind. — Neli Ramirez
Presenter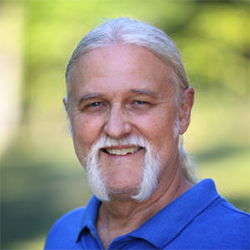 Bharata Wingham, E-RYT 200, CLYT
Bharata Wingham, E-RYT 200, CLYT, is a longtime student of A Course in Miracles, having studied and worked with it daily since 1980. For thirteen years, he produced and hosted a television program, A Course in Miracles Study Group, which was distributed in the US and abroad. While conducting numerous programs and workshops, he authored the book, An Ancient New Idea: A Primer on A Course in Miracles. He is also the author of Laugha Yoga: Combining the Joy of Laughter with the Bliss of Yoga. A Laughter Ambassador, he has trained hundreds of Laugha Yoga Leaders and led thousands…
Learn more about Bharata Wingham, E-RYT 200, CLYT