Integrating Yoga Philosophy and Asana – Online
with Mia Velez
June 24, 2023
CE Online Workshop
How can one convey the philosophy of Raja teachings in an asana class? How can we guide our students to demonstrate something like Brahmacharya during Surya Namaskaram or Pranayama? This interactive class will scratch the surface of teaching a multifaceted class that brings Raja teachings in asana, pranayama and meditation. This class includes a 30min themed class and one hour interactive discussion and Q&A.
Live session on Saturday from 2–3:30 pm ET.
Continuing Education (CE) Opportunities
Yoga Alliance (YA): Approximately 1.5 contact hours.
You can input your contact hours using your YA login information.
*** This is an online event and is free for IYTA Members. Please email membership@iyta.org or go to your membership dashboard on iyta.org for your discount code ***
Presenter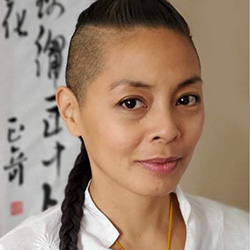 Mia Velez
Mia Velez entered the Integral Yoga Sangha in 2016 through the kitchen by helping to cook Thursday community lunches and silent retreat meals. In 2018 she certified as an Integral Yoga teacher to learn more of the IYI approach and be part of the lineage. Mia is a disciple of the Moy Yat Ving Tsun Kung Fu lineage and is highly influenced by her martial arts training. After completing her first 200-hour teacher training in 2008, she began to see an undeniable parallel between Yoga and Kung Fu. When she began teaching Kung Fu in 2014, she incorporated Yoga insight…
Learn more about Mia Velez