Gentle Somatic Yoga® Level 1 Training
with James Knight, E-RYT 200, CHSE
November 3 - 8, 2023
Dive deeply into Gentle Somatic Yoga® (GSY), a method of movement reeducation that strengthens the brain-to-muscle neural pathways. In this 6-day Level 1 course, you will learn practical and easy to implement skills that will address the root cause of most chronic muscular pain and reverse persistent stress holding patterns in the body. Experience more than 25 Somatic Movement Flows® that can be incorporated into therapeutic modalities such as Hatha Yoga, Yoga therapy, physical therapy, massage therapy, and dance.
Begin your journey with us to:
Relieve or dissolve persistent pain conditions
Significantly improve flexibility and posture
Reduce or eliminate muscle stiffness and cramping
Boost health, vitality, and wellbeing
Develop a loving, compassionate and trusting relationship with your body
Learn somatic movements that are science and heart-based. This is a whole-body approach for self-healing and most people experience immediate and long-lasting results. Enjoy your body and feel good now.
The science behind this method comes from Hanna Somatic Education. Learn about the green light, red light, and trauma reflex; sensory-motor amnesia; the stretch reflex; and the important technique of pandiculation. In Gentle Somatic Yoga, we do not focus on stretching muscles. Instead, we reprogram muscles to their most optimal length in a resting position.
Learn how to modify the Gentle Somatic Yoga practice to meet the needs of special populations including seniors, beginner Yoga students, athletes, and individuals with special conditions such as rehabilitation from injuries, desk workers, and pregnancy.
Integrate GSY into immediate application in your everyday life. Enjoy the benefits for yourself and share this knowledge with people that you care about that are living with physical discomfort. If you are an experienced Yoga teacher, therapist, bodyworker, or movement educator, you will be able to develop one-on-one sessions and classes that address common conditions such as neck and shoulder tension, chronic back pain, tight hips, and/or hamstrings. If you are already working with special populations, then Gentle Somatic Yoga can augment your practice and continue to distinguish yourself as an expert in the field. This new skill set can dramatically accelerate all therapeutic and healing processes.
The weekend workshop, Gentle Somatic Yoga® Weekend: Find Your Inner Yes on Nov. 3–5, 2023, is a part of this training. Participants in this 6-day Level 1 course will have additional times to meet throughout the week and dive deeper into neuroscience, philosophy, and GSY method. If you are unable to stay for the full 6-day program, consider signing up for the Gentle Somatic Yoga® Weekend: Find Your Inner Yes, Fri.–Sun., to experience a weekend of complete restoration and a natural state of peace and well-being.
Learn more about James and Gentle Somatic Yoga on the Integral Yoga Podcast, Episode 80 | James Knight | Gentle Somatic Yoga.
Training Information
Prerequisites
Upon Level 1 registration, you will receive a complementary GSY Level 1 Online Training which you are highly encouraged to take before the in-person training at Yogaville. It is a fantastic way to supplement your education and, most importantly, it gives you a chance to study and prepare for the in-person experience.
This intensive is designed for anyone wanting to learn a home practice for easy and reliable self-care and healing. This program is also designed for Yoga teachers, Yoga Therapists, and health care professionals that want to learn new skills to teach group classes and/or individualized sessions.
Continuing Education (CE) Opportunities
At the completion of this 6-day program, you qualify to become a GSY Practitioner Level 1 with a Certification add-on option.
Yoga Alliance (YA): Approximately 32 contact hours.You can input your contact hours using your YA login information.
Yoga Therapy: This is one of the elective modules to become certified as an Integral Yoga Therapist
Integral Yoga Teachers Association (IYTA) can provide you a CE certificate with your program's total contact hours for a $10 fee (free for IYTA members.) For more information, email ce@iyta.org.
Testimonials
The Gentle Somatic Yoga teacher training certification course with James Knight was fantastic. I was not familiar with him and now have found another Yoga teacher to follow. His teaching style is wonderful and very engaging. The content of the course was exactly what I'm interested in and he does a great job of explaining and coaching the various movements. I will be looking for more educational offerings with him in the future. Thank you so much for what you do and the love and enthusiasm for Yoga with an aging population that you display. — Jan F.

I really enjoyed this course. Learned a lot and feel much freer in my body already. I am a Yoga teacher and Yoga therapist and have already started to use little snippets in my classes with great response. This work is amazing! — Jasmine M.

I've been to many, many teacher trainings, and it's hard to have favorites but this is right up there. It feels like we're co-creating this new way of practice. — Lindsay C.
Presenter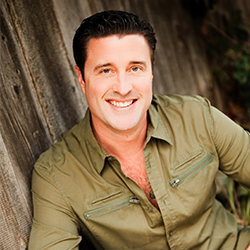 James Knight, E-RYT 200, CHSE
James has been an Integrative Therapist for over 25 years. He is a Yoga teacher (E-RYT 200) and Certified Hanna Somatic Educator (CHSE). From his combined experience as a lifelong yogi, intuitive bodyworker, psychotherapist, and movement educator, James created a method of Yoga that integrates what he discovered to be the most progressive, life-enhancing techniques into an embodied movement practice. Gentle Somatic Yoga was born out of years of exploring means of connecting and integrating the deeper aspects of the whole Self (Soma). James' passion is to awaken the possible for people living with challenges related to physical limitations. He…
Learn more about James Knight, E-RYT 200, CHSE